63-year-old Wangdu lives in Shazho Village, Wujing Township in Shangri-La, Deqen Tibetan Autonomous Prefecture, southwest China's Yunnan Province. As you walk into his home, you can see a row of his own Shinze (a kind of Tibetan string instruments) hanging on the wall.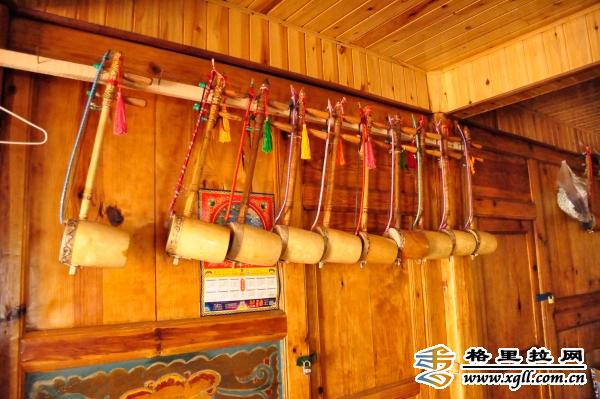 Shinze made by Wangdu himself.
Wangdu has always insisted on hand-making Shinze himself. He said that material selection for making a Shinze is very particular: if you want the quality of sound to be better, the maker needs to know how to play the instrument. The best materials for making Shinze are catalpa and camphor wood, and for the canister, the wood grain should be as stiff as possible. The body should be able to withstand a certain amount of tension.
"The most important part about material selection is about the skin, which directly affects the sound of Shinze," Wangdu said. "Snakeskin produces a relatively crisp sound, and leather has a thicker sound."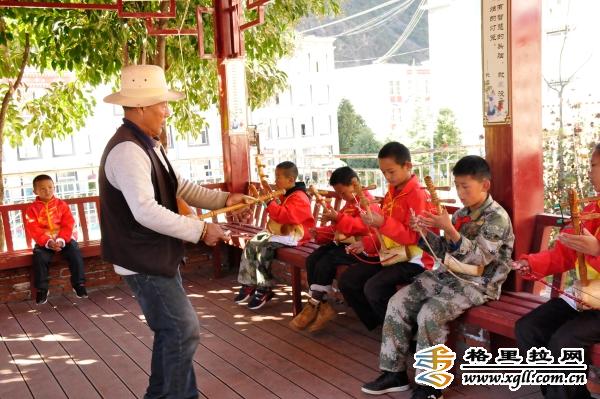 Wangdu teaches students from the Wujing Township Primary School to play Shinze.
In order to better inherit the Shinze culture, Wangdu has organized a group of more than 20 Shinze players in the village, the youngest of whom is only 27 years old. Whenever they have time, they get together and practice playing Shinze. Every Saturday afternoon, Wangdu also goes to the Wujing Township Primary School, where he teaches the children there to play Shinze. He said, "Although it's only one hour per week, and there are only 22 students, the most important thing is to teach them about Shinze culture and create a learning chance for them."