Christmas in Germany could be less delightful as many regions are suffering a severe shortage of Santas, according to recruitment agencies.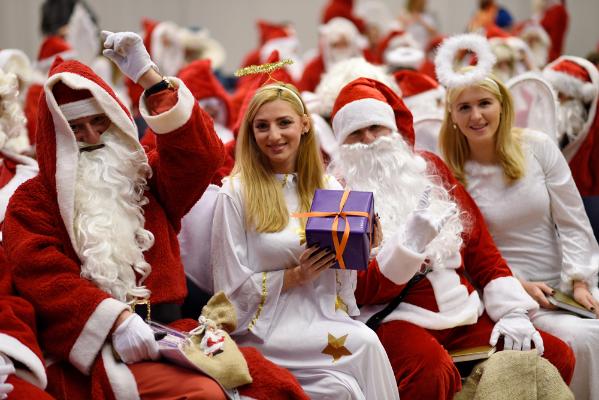 Students dressed as angels and as Santa Claus attend the general meeting of Berlin's Santas and angels in Berlin, Germany, Saturday, Nov. 26, 2016. [File photo: dpa via AP/Rainer Jensen]
  The Berlin Santa Claus Office, which typically receives about 2,500 bookings per year, has now fewer than 200 Santas on its books, down from 500, one of the agency's employee Petra Henkert told German local media Der Tagesspiegel.
  "We are suffering a Santa drought," Henkert said.
  A student services organization in Berlin has already stopped its recruitment of Santas due to lack of candidates, it said in a statement released on the Internet.
  Santas in Germany are often hired by families to recite festive poems, stories and songs. The role has traditionally been considered a nice source of income for students.
  An elite Santa could usually earn 100 euros (around 113 U.S. dollars) per visit and up to 500 euros per day.
  The shortage, "particularly severe in eastern German states such as Saxony and Brandenburg, has been caused by long hours of study, the busy lives of modern students and a decline in the Christian faith," according to Britian's daily The Times.
  The drought has led to many desperate online pleas from local parents for a Santa to come to their rescue, The Times reported.
  "If you have red robes, thick boots, a long beard and the time and inclination to visit our family on Christmas Eve we would be thrilled," one of the online pleas said.