On July 1, 2006, the Qinghai-Tibet Railway opened to passengers, ending a history of no railway transportation to Tibet. It is reported that as of October 31,2018, the China Railway Qinghai-Tibet Group Co., Ltd. has transported 24.46 million passengers and 47.439 tons of goods in and out of Tibet over the last 12 years.
Today, people of all ethnic groups in Tibet benefit from the the rapid development of the railway as they experience the increasingly perfect railway transportation services.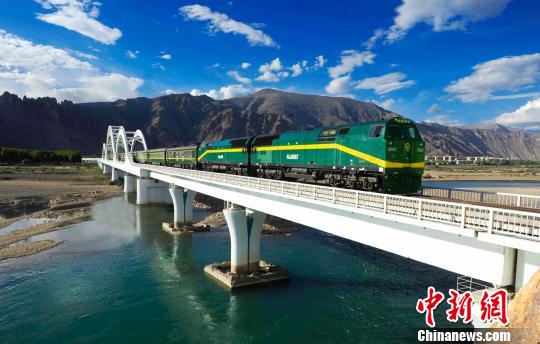 A Qinghai-Tibet railway train to Tibet passes through the Lhasa River bridge.
Tenzin Tashi, a fourth-year-student at Harbin Institute of Technology, said that he has traveled between Tibet and inland areas several times since 2008 when he entered university. In his experience, he has found that in recent years, train services have become more and more satisfying, with the compartments decorated with ethnic plateau features such as Tibetan carpets, piling embroidery, and thangka paintings.
At the same time, the ever-expanding railway network has brought a new transportation pattern to the Qinghai-Tibet Plateau, which helps promote Tibet's economic and social development.
In August 2018, the main part of the expansion and reconstruction of the Qinghai-Tibet Railway was completed. The running time for cargo trains was shortened by two hours, and the transportation capacity was increased by 80%, making it faster to transport goods in and out of Tibet.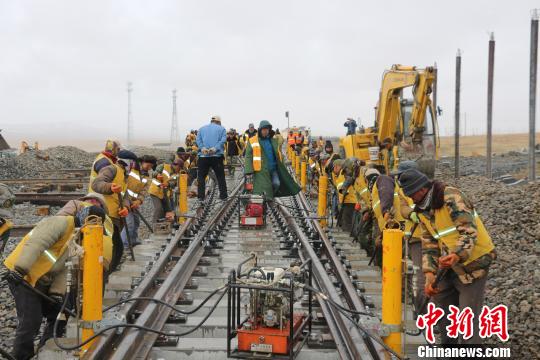 Construction site of the expansion of the Qinghai-Tibet railway.
38-year-old Ngawang Dorje is the first Tibetan boss to run a rail logistics company. He said, "Now I can earn at least 1 million yuan per year. From an ordinary worker earning 2,000 yuan per month to now a millionaire, the Qinghai-Tibet Railway has made me rich."
Today, with the rapid development of Tibet's economy and society, the role of the Qinghai-Tibet Railway is more diversified. After the railway's operation, tourism industry in Tibet had a "blowup" of development. According to statistics, in the past 12 years, Tibet has welcomed 123 million domestic and foreign tourists. The number of tourists coming to Tibet has increased from 1.8 million people in 2005 to 25.614 million people in 2017, and revenue from tourism has increased from 1.94 billion yuan in 2005 to 37.94 billion yuan in 2017.
Editor:Yanina