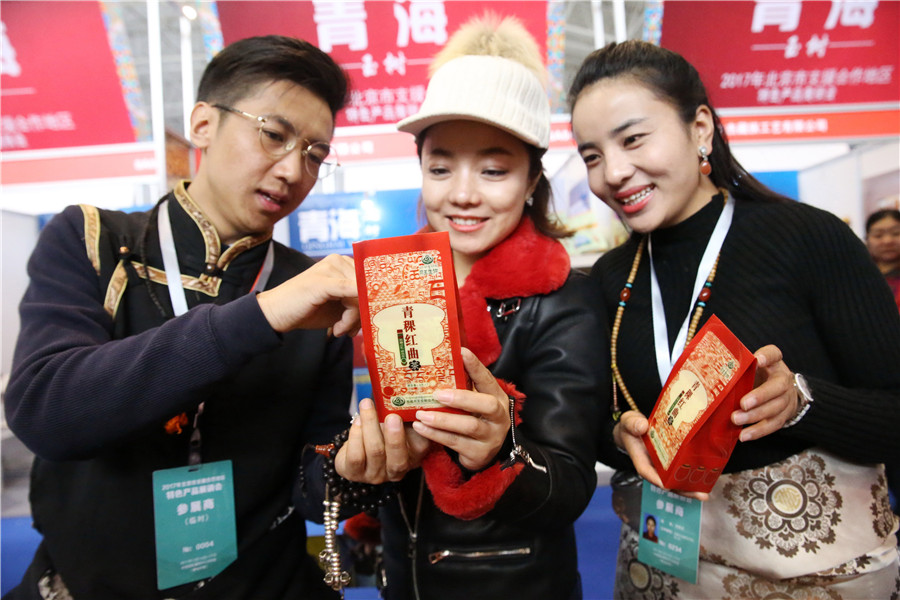 Retailers introduce Tibet's highland barley tea at an exposition in Beijing. [Photo/China Daily]
Farmers in poverty-stricken areas of the Tibetan plateau in Southwest China have found ways to sell their crops and related products to customers worldwide, thanks to a newly built marketing system.
By the end of 2014, about 75 percent of Tibet's population were living in rural areas, data from the Tibet Yearbook showed. They rely on agriculture for subsistence. Rice, barley, wheat, honey, and meat are the main products they trade.
For a long time, local farmers have faced challenges in selling their produce, due to inadequate communication networks like transport systems. That hindered access to customers.
But that is about to change. Cui Taifu, general manager of the Tibet Supply and Marketing Cooperatives, said the organization expects to build offline stores in 20 to 50 major Chinese cities to display and sell Tibetan goods.
A new e-commerce platform will complement the efforts to increase sales and bring wealth to the natives of Tibet.
"Most of the rural areas are remote. Some of Tibet's crops may rot within three months. So if farmers can't sell their crops in time, they would lack motivation to produce food," Cui said. "We aim to build the whole marketing channel to help enlarge production and income for them."
These days, Liu Yali, sales manager of Tibet Jishun Biological Technology Co Ltd, is busy stocking up highland barley vinegar on the shelves of a company store in Lhasa. The store opened in September.
"Tibet has very rich resources. The highland barley, for example, can help ease high blood pressure, diabetes and hyperlipidemia," she said. "The water and air are also clean."