"Changing" is the word when many people in Yushu Tibetan Autonomous Prefecture, northwest China's Qinghai province use when they describe their life 8 years after the 2010 earthquake. The town is changing with new houses, convenient transportation; their life is changing; and people's minds are also changing.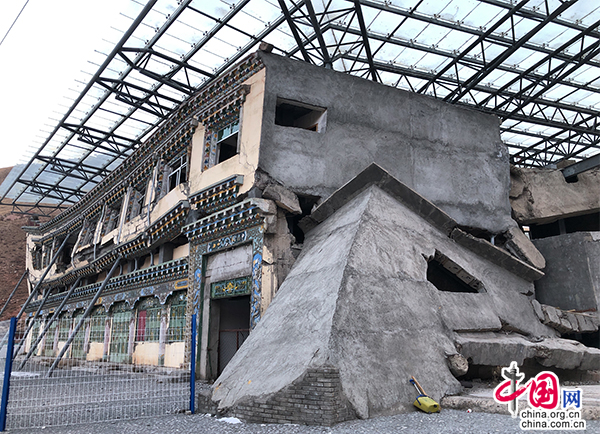 Houses collapsed during the 2010 earthquake.
53-year-old Karma Wensol's village, Tashi Datong Village, was the hardest hit area by the earthquake. Almost all the houses in the village were razed to the ground. After the reconstruction work, Karma Wensol and other villagers moved into their new homes.
Housing is a key part of post-disaster reconstruction. New Yushu has classified 44.5 percent of urban construction land as residential land, providing for a total of 13,701 households in a total construction area of 1.1 million square meters.
Karma Wensol's new home is filled with Tibetan-style furniture and decorations, and various flowerpots occupying the entire balcony. "Winter and summer are both warm in the new house. The flowers can continue to grow, and we can grow any plants." 'Warmth' has become the biggest impression Karma Wensol has on his new house.
Karma Wensol told reporters that in the past, indoor heating was all dependent on burning cow dung. Cow dung would be added to a stove every 20 minutes or so, and no one would add it after they went to sleep at night. Now, in both the government planning district and private building district, Yushu's new houses have gone from "burning stoves" to central heating.
"We introduced large-scale central heating, sewage treatment plants, and other infrastructure projects during the reconstruction process," Tuding Qenmai, director of the Yushu City Administration, said. "These facilities were not seen here before the earthquake."