U.S. President Donald Trump said Saturday that White House chief of staff John Kelly will leave his job at the end of the year.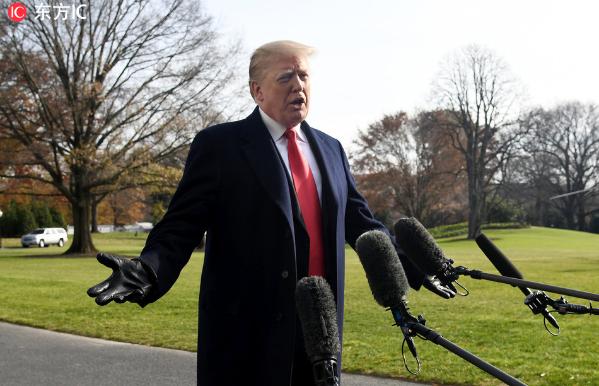 United States President Donald Trump answers questions from the press while departing the White House December 8, 2018 in Washington, DC. [Photo: IC]
  Trump called Kelly "a great guy," when speaking to reporters at the White House before leaving for the Army-Navy football game in Philadelphia.
  "He's been with me almost two years now, between two positions," he said."I appreciate his service very much."
  The president said he would announce Kelly's successor "over the next day or two."
  Potential replacements include Vice President Mike Pence's chief of staff Nick Ayers, who is seen as a leading contender, according to reports from CNN and Axios.
  Ayers, 36, has told the president that he would serve on an interim basis through the spring, when his family will return to the southeastern U.S. state of Georgia, according to a New York Times report citing sources familiar with the discussions.
  Other potential choices include the Treasury secretary, Steven Mnuchin; his budget director, Mick Mulvaney; and the U.S. trade representative, Robert Lighthizer, said the NYT report.
  Kelly has been viewed as living on borrowed time. CNN reported on Friday that he and Trump have stopped speaking to each other in recent days, citing two White House sources.
  In July, Kelly said that Trump had asked him to stay on as chief of staff until at least 2020, to which he agreed.
  Trump has been widely expected to reshuffle after the Nov. 6 midterm elections and before the start of the second half of his first term.
  Kelly, Trump's second chief of staff, took over the position from Reince Priebus in July 2017. Before that, he was the Trump administration's first secretary of the Department of Homeland Security.