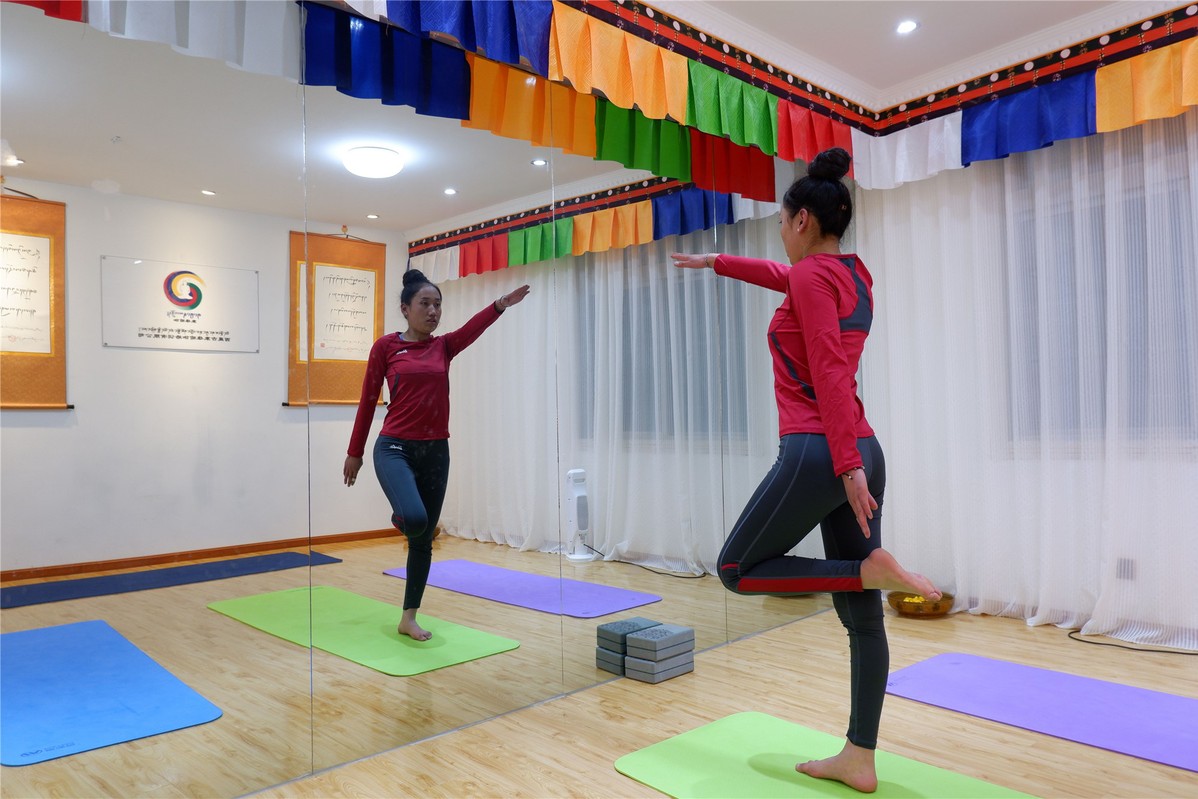 Tsering Palmo practices Tibet's native Shangshung yoga at her studio in Lhasa, Tibet autonomous region, this month. [Photo/China Daily]
Dressed in leggings, Tsering Palmo bent down, and twisted her body into a compact shape. Then, she hopped forward like a frog on a yoga mat in her studio, which overlooks a mosaic of diners and milk tea houses dotting the bustling streets of Lhasa, capital of the Tibet autonomous region.
Minutes later, she sat cross-legged in a Buddha-like posture and suddenly bounced up and down in a series of gravity-defying movements.
"These are the most typical moves in Tibet's native Shangshung yoga," said the 23-year-old, her eyes focused on her reflection in a mirror.
Measuring only a few square meters, the studio she runs with two partners in a three-story complex in the east of Lhasa offers a revolutionary view of yoga.
In China, mainstream yoga has long been known as a set of health-preserving practices imported from ancient India, and with a rapidly expanding global reach. It has impressed people with its instantly recognizable slow, gliding moves-as seen in movies, television commercials and brochures that advertise numerous studios hidden in residential communities and busy streets nationwide.
But its Tibetan relative, which features frequent displays of incredible strength, is barely known outside a limited number of hardcore fans. Even members of the Tibetan ethnic group, who traditionally take pride in their unique culture, are often unaware of it.
"I had never heard of it, nor had my friends, until I took it on as a career in June," said Tsering, whose lack of knowledge does not reflect the time she spent living and studying in Tibet and East China.
The Shangshung culture is widely believed to have laid the foundations for Tibetan culture in the pre-Buddhist era.
Practitioners of its style of yoga are required to foster a range of physical and mental habits, including conscious control of everyday speech and communication, emotions and sleeping postures, in addition to mastering up to six separate breathing techniques.
Tibetan yoga also has a strong astrological slant, and advocates the mystical "five elements" theory, which attempts to guide people's exercise by establishing connections between the movements of the celestial bodies and the functions of the human body.
Tsering and her partners have 15 students, hailing from several age and ethnic groups in Lhasa. Each pays 888 yuan ($127) for 13 sessions a month, with each lesson lasting about 90 minutes.
Occasionally, tourists seeking relief from the hustle and bustle of city life via a temporary stay in the regional capital will attend a couple of classes.
Incubator
Being relatively new to Tibetan yoga, Tsering and her colleagues try to hone their skills every day.
For the past few months, they have been studying the ancient art with Yadrang Yudruk Tsering, a recognized master of Tibetan yoga who acts as a counselor at the studio.
He is hired and paid by the Tibetan Medicine Mass Creation Zone, an incubator-like outfit that aims to foster businesses that will help preserve Tibet's time-tested traditional healing techniques.
The zone was established in May last year by Gonpo Dorje, a master of traditional Tibetan medicine who is also head of the Association for the Conservation of Tibetan Medicine in Nagqu city, and his friend Karma Lhundrup.
By providing funds and rent-free offices to college graduates and startups, and hiring counselors with medical and business expertise, the zone has managed to conserve a string of health-preserving practices that originated in traditional Tibetan medicine or culture. They include medicated baths, moxibustion and medicinal diets.
It has also helped college graduates from rural Tibet start micro-businesses, a move the central government has been promoting via a nationwide campaign to bolster the entrepreneurial spirit to sustain jobs and economic growth.
"Many college graduates in traditional Tibetan medicine come from the rural areas. In most cases, they lack the funds and experience to start a business using what they learned on campus," said Gonpo, who like many Tibetans only uses one part of his given name.
In Tsering Palmo's case, that business is Tibetan yoga, which dates back 3,800 years. However, despite being born and raised in rural Shigatse city, she never heard of yoga-Indian or Tibetan-as a child.
She regarded the gaokao-the national college entrance examination-as the most practical way to start a life away from the snowcapped plateau, so she quit vocational school after two years of nursing studies and enrolled at a high school.
In 2016, she was admitted to a college in the eastern province of Jiangsu to study law. Having combed through myriad student societies, she decided to join a yoga club, where she became captivated by the stress-relieving effects of traditional Indian yoga.
Her passion for the art gradually outgrew her academic interests, and by the time she graduated this year she had decided to find a job that could serve her new interest.
This summer, she returned to Lhasa to look for a job, but, to her dismay, she found few yoga studios. It was a sharp contrast to the situation in Jiangsu, one of China's most-active yoga markets.
In recent decades, Tibet has seen rapid urbanization. However, a growing number of new urban dwellers are struggling to adapt to fast-paced city lifestyles.
By the end of last year, Tibet's urban population had reached 1.07 million, almost four times the 287,000 recorded in 1980, according to regional government figures.
But the growth of studios devoted to yoga-a fashionable pastime intended to reduce the stress felt by office workers and help them lose weight-lagged in the region.
Figures from a 2017 industry report show that the region, which is home to more than 3 million Tibetans, had just one yoga studio, the lowest number among the 31 provinces and regions surveyed that year. By contrast, neighboring Qinghai province had 16, despite being last but one on the list.
The survey, conducted by the Chinese Academy of Social Sciences' Food and Drug Development and Supervision Center, found that the number of studios in Guangdong province surpassed 1,300, the most that year, followed by Shandong (1,067) and Jiangsu provinces (922).
Encounter
While visiting a job fair, Tsering Palmo was delighted to see that Gonpo's company was recruiting trainers for a program aimed at promoting Shangshung yoga.
At the time, she had no idea what the practice involved, and assumed that it was a branch of mainstream yoga.
The company dangled tempting benefits in front of applicants, promising 50,000 yuan to start a Shangshung studio and a rent-free, well-furnished space that can be used as a classroom.
Tsering Palmo was told that there would be plenty of opportunities to talk with healthcare experts-most of whom were skilled in traditional Tibetan medicine-and counselors, who could offer guidance to young entrepreneurs regarding the selection of business models. Moreover, she would be able to quit the program when she no longer needed its support.
She and many other young entrepreneurs quickly reaped the benefits.
Penpa, a Tibetan medicine graduate in Nyingchi who joined the company this year, said the arrangement enabled him to improve quickly in terms of clinical practice and taught him to tap his academic expertise for a financial payback.
With the help of counselors, the 25-year-old from a farming and herding family in rural Nyingchi designed a sachet containing a dozen fragrant herbs that produce a nerve-soothing aroma. Penpa discovered the recipe in classic Tibetan medicine literature.
The sachets, decorated with traditional patterns and characters representing good luck and happiness, are intended to be hung in cars or bedrooms.
"Many traditional medicine graduates help experienced practitioners. They don't need to think too much, because the experts dictate the medicines they should prescribe," he said.
In addition to acquiring the skills of the rapidly disappearing Shangshung practice, Tsering Palmo quickly discovered that her unplanned, partially understood career choice enabled her to delve into a realm that embodies the classic Tibetan values and worldview, but with great financial prospects.
"Indian and Tibetan yoga have their respective features," she said. "But, as an ethnic Tibetan, I see greater significance in pursuing in-depth study of our own style of yoga."
She said her confidence comes from her rising income and people's greater awareness of health, plus a tourism boom in Tibet.
Figures from the regional government show that in the first half of the year, per capita disposable income in Tibet reached 7,792 yuan, a 12.7 percent rise year-on-year and 3.9 percentage points higher than the national average.
Liang Min, 35, who has run a noodle restaurant opposite the Hospital of Tibetan Medicine in Lhasa for two years, said she sees countless herders from rural Shigatse and Nagqu heading to the building to access healthcare, usually ahead of Tibetan New Year.
"After a soothing medicated bath, they come to my place for a bowl of noodles, and stay in a nearby hotel until the celebrations are concluded," she said.