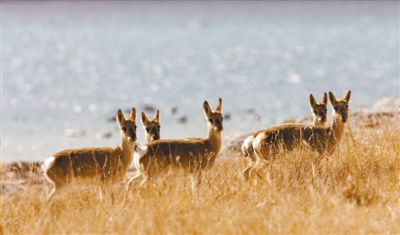 Tibetan gazelle.[Photo/People's Daily]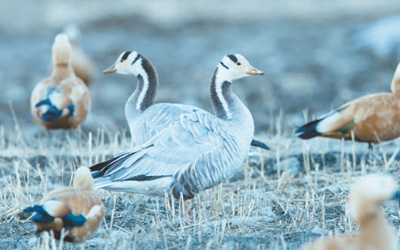 Bar-headed geese forage in the wetlands by the Yamdrok Yutso Lake.[Photo/People's Daily]
"Since winter, many Tibetan gazelles and bar-headed geese have been spotted near the village," said a villager named Tenzin, who is from Jiqiong Village in Dongda Township, Gongkar County, Tibet Autonomous Region.
Tibetan gazelles, as well as the bar-headed geese, are national second-class key protected animal of China. Jiqiong Village is located on the southeastern shore of Yamdrok Yutso, the largest inland lake in the northern foothills of the Himalayas. After years of effective protection, it has become a paradise for wild animals specific to the plateau, such as black-necked cranes, bar-headed geese, and Tibetan gazelles.
The average elevation of Yamdrok Yutso Lake is 4,400 meters above sea level, and it has a water surface area of about 675 square kilometers. It winds for more than 130 kilometers among the mountains and is divided across two counties: Gongkar County and Nakartse County.
Apart from Jiqiong Village, there are three more administrative villages distributed around Yamdrok Yutso Lake in Dongda Township, which are all included in the Middle Reach of Yarlung Tsangpo River Valley National Nature Reserve. There are black-necked cranes, Tibetan gazelles, snow leopards, and other first-class national protected animals, as well as second-class protected animals such as Tibetan gazelles, Tibetan eared pheasants, and lynx.
An official with the Gongkar County Forestry Bureau said that due to effective protection measures, the number of wild animals living around Yamdrok Yutso Lake has increased by more than 10 percent in the last three years.
Editor: Tommy Tan.