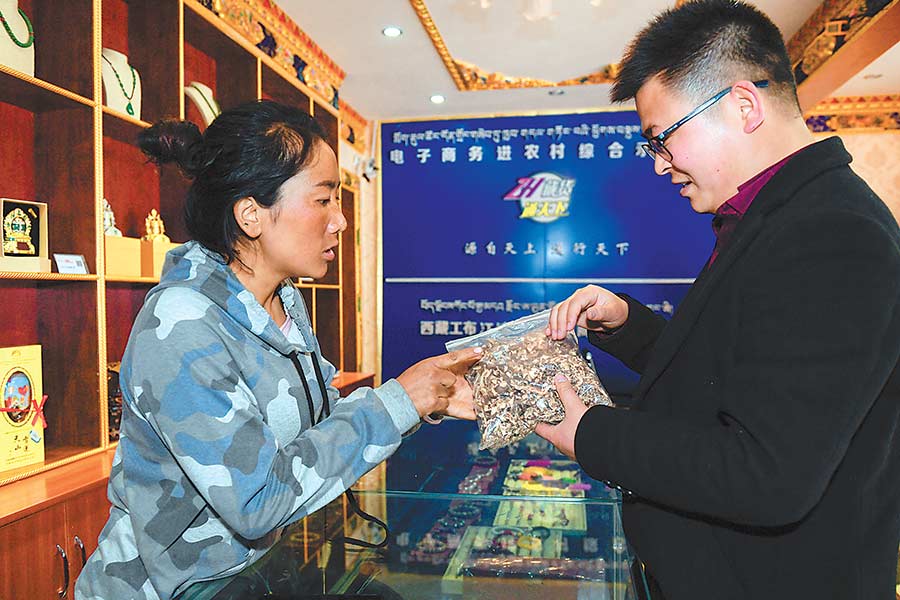 The head of an e-commerce service station (left) in the Tibet autonomous region introduces a local specialty to a customer.[Photo/China Daily]
Remote and mountainous areas like Tibet are no longer "forgotten corners" amid China's rapid technological development and economic growth, since digital tools, such as e-commerce, can narrow the gap created by geographical distances, experts said.
During this year's Singles Day online shopping festival on Nov 11, online sales of products from the Tibet autonomous region on major e-commerce platform JD surged 1,141 percent compared to Oct 11. The number of online orders during the shopping festival in 2017 grew 3,000 times compared to 2008, according to JD.
However, only a few years ago, e-commerce had not yet taken off in Tibet.
"They didn't even know what it meant," said Wang Jucang, chairman of local business Ayun E-commerce Co Ltd.
To expand his business, Wang has visited 30 counties across Tibet, and has observed both the traditional and modern aspects of the region.
"You can hardly believe it," said Wang when driving on the highway to Metog county. "In some pastoral areas of Nagchu and Ngari prefecture, people still barter as a means of trade."
The often isolated regions and poor infrastructure posed challenges for residents to gain access to the outside world, meaning some people in remote and mountainous areas still maintained traditional lifestyles and economic models.
However, dramatic changes have taken place in recent years after the local government included e-commerce among its 10 poverty-relief industries, along with areas such as rural tourism, in line with its goal to lift all of the region's residents out of poverty by 2020.
In 2017, online retail sales in Tibet exceeded 2.28 billion yuan ($331 million), up 59.8 percent year-onyear, according to data from the local government. That growth rate was 26 percentage points higher than the country's average. From January to June, online transactions grew 62.1 percent year-on-year to reach 8.82 billion yuan.
By January, the region had built five delivery centers in local counties and more than 100 e-commerce service stations in villages, according to a Lhasa Evening News report.
Sonam Dolkar, head of the e-commerce service station in Kyepa village of Kongpo'gyada county, said about 50 packages arrive at the station every other day, which was rarely seen in the past.
She said most villagers now buy clothes and daily necessities online.
"Even for Spring Festival shopping, we don't need to travel to the urban region," she said.
Many villagers came to her to learn how to buy and sell online. She herself opened a store on Alibaba's online e-commerce platform Taobao in 2017, to sell local matsutake variety of mushrooms and medicinal materials, and to help others to sell their goods too. Her business achieves monthly revenue of 10,000 yuan, and 80,000 yuan in peak seasons, she said.
Wang from Ayu E-commerce said the company is working on e-commerce talent training in five of Tibet's 14 e-commerce demonstration counties.
One of the participants, Paldron, 24, an online retailer in Metog county, said she has learned how to take professional photos, attract clients and provide quality services.
Paldron sells over 10 stone stew pots a day online to customers in Beijing and Shanghai, with prices ranging from 1,000 yuan to 3,000 yuan. She also runs bricks-and-mortar stores, but sales are limited due to the low visitor flow, she said.
She began her own business after graduating from high school. When she was younger, her family lived in a wooden house, which often leaked on rainy days because they could not afford an iron sheet roof. By planting corn and picking mushrooms, the parents could only just feed their children.
"I didn't even have shoes. Buying drinks or candy at a store used to be a luxurious dream," she said.
E-commerce has brought significant changes to her life. Her business now brings about 300,000 yuan to the family every year. Paldron's parents still farm, but their agricultural products are sold on her online store. Their home was rebuilt with cement and now houses new furniture.
"Life has really improved," she said, adding almost all the people in the village are in the stone stew pots business now.
Recent years have also seen more postal cars and express stations in the village, she said.
Ye Min, consumer markets leader at PwC China, said e-commerce can help agricultural products from remote and poor regions to enter other markets, which can then help to build an industrial cluster and improve regional competitiveness.
"It can also create more job opportunities, improve farmers' skills and enlarge their income," Ye added.
From January to June, sales of 2.83 million kinds of products from about 800 poor counties via e-commerce giant Alibaba's online platforms surpassed 26 billion yuan. Many e-commerce companies, such as Pinduoduo, Suning.com and Yunji, have made poverty-relief a corporate strategy, according to Ye.
"It will become a trend for agricultural products in remote and poor areas to be transported to the tables of urban residents, and to the overseas markets by China Railway Express.
"For companies, the poverty-relief projects cannot be seen as a simple charity activity, but an opportunity to expand their markets and create new growth points," she said, adding 92 percent of future consumption will come from non-first-tier cities by 2030.
Yu Hai, product channel director from Lhasa Pure Land Industry Investment and Development Co Ltd, said the company purchased honey, quinoa, yak meat and other products from families in poor villages, and helped to sell them via its stores on Taobao, Tmall, JD, as well as social platforms, including WeChat and Douyin.
"Many of the farmers had unsold food piled up in warehouses, which will get rotten quickly," he said, adding the Tibet brand gives customers an impression of "blue skies, white clouds, less pollution" - all good for marketing.
Online channels now contribute about 60 percent of the company`s total sales in China. But challenges remain, including the lack of large-scale production, counterfeit products and the high costs of marketing on e-commerce platforms, Yu said.