"Soon another 1,500 geese will become full-grown. In addition to repaying the loan, we can give dividends of around 20,000 yuan (2,900 US dollars) for each household in the village," Zhu Hailong said with delight in front of the village committee of Raba Village in Lage Township, Pashod County.
Zhu Hailong is the person in charge of the village's "plateau ecological geese" breeding base. The base is a project to promote poverty alleviation. Since it began operation in September 2017, it has raised more than 5,000 geese and sold more than 10,000 goose eggs. The base's net profit from one year of sales has reached more than 200,000 yuan(29,000 US dollars).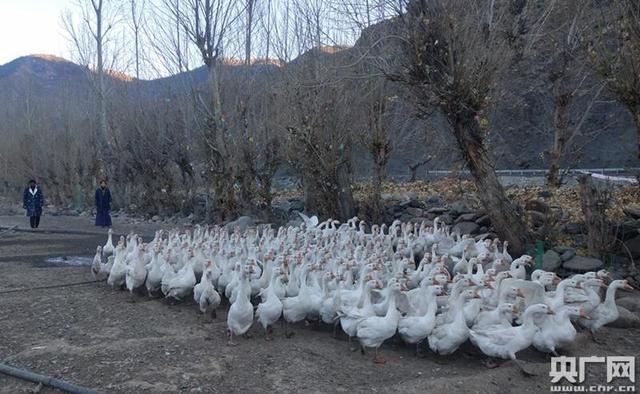 Rinchen Lhamo is feeding the geese.
Rinchen Lhamo has been working in the base since it was established. She said that she has elderly people and school-age children in her family to take care of, so she is unable to go find work outside even if she wanted to. Now with this project, she can earn money near her home. Rinchen Lhamo said, "I earn at least 1,500 yuan(218 US dollars) a month. I can still do my own farm work at home even when I am busy working at the base. The base earns us money and even gave each family a solar water heater. Life is getting better and better."
On a small road in front of Raba village, villagers talk and laugh in small groups, their faces filled with happy smiles. An elderly villager happily told reporters that after the new year, the villagers would all move to newer houses. Several children are playing at the entrance to the village. It is said that the village children are all given a uniform when they go to school. The uniforms are produced by the county ethnic garment factory, and the quality is very good.
From the bustling county town of Pashod, you can reach the Pashod County Industrial Park in a short time. There are 8,000 mu (1 mu = 0.165 acres) of buckwheat planting and processing factory and ethnic garment factory in the park. According to park staff, they are currently preparing for new projects such as a logistics company.
The ethnic garment factory produces more than 40 kinds of products, including school uniforms, men and women's Tibetan clothing, and Tibetan tents. The garment factory currently employs 55 people, all of whom come from impoverished households. 40 employees also have physical disabilities such as Kaschin-Beck disease or deafness. Founder Luo Songqun said, "My employees can earn around 50,000 yuan(7,260 US dollars) a year. They are capable of doing their own work, and I've sent each a sewing machine. 18 people have started their own business. Good policies have let me start a processing factory, so I will do my best to help more people."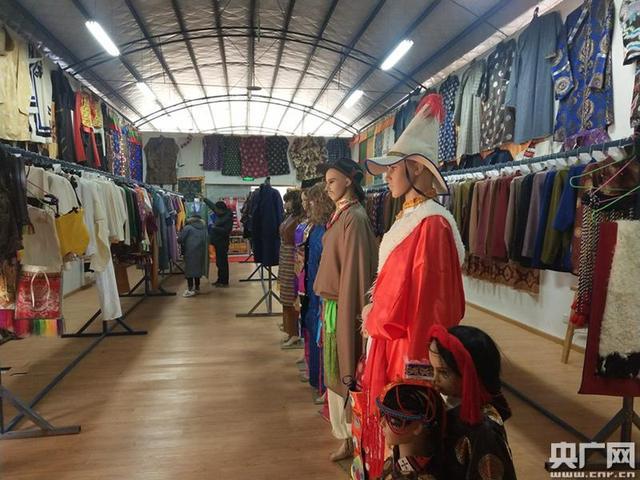 The ethnic garment factory produces more than 40 kinds of products.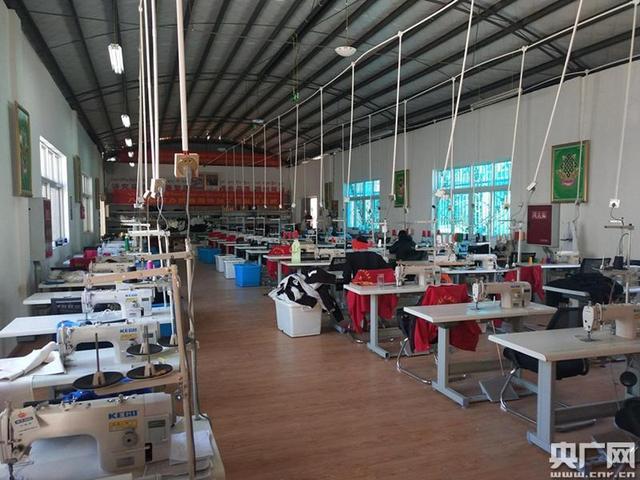 The ethnic garment factory produces more than 40 kinds of products.
Editor:Yanina