Tsebu Gang, a small nomadic area and this place will be a perfect place in Tibet tours, where they erect their camping during summertime and graze the domestic animals, at the camping site there are small square or rectangle plank house which they use as temporary household. This small 100% nomadic falls under jurisdiction of Palna village under Taktse town, this Tsebu Gang is 11th group of Palna village. Tsebu Gang has 49 houses with around 147 people in total, they are fully adapted on nomadic life in the past and now due to improvement in the infrastructure of local area, most of youngsters also go out for labor to make more savings for the family. Moreover, children now attend schools as local government also convinced the nomadic areas about the importance of modern education and its merits in future. Not like before, all parents voluntarily sent their children to school for education.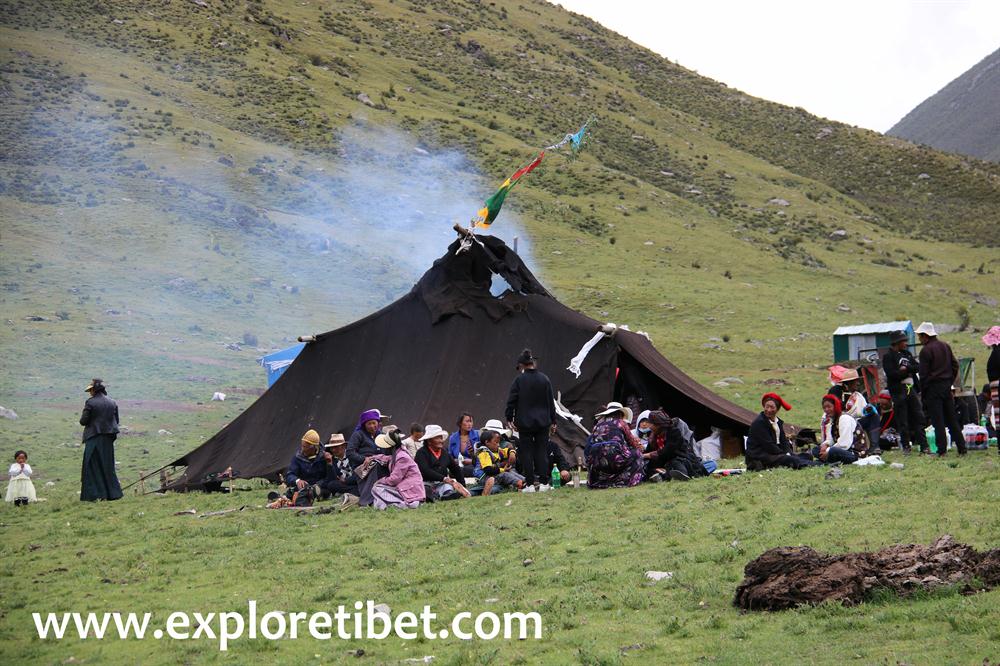 When I (Samdup) went there, I was so amaze with the whole environment. Bluish sky and river, green grasslands, domestic animals enjoying their own freedom and enjoying their grass around, I'm sure September is the best time to travel tibet. This small yet very tidy village and environment indeed requires other people to experience the uniqueness of Tsebu Gang nomad.
This nomadic place is just 35km away from Lhasa city, it is around 1-hour drive if you drive slowly and enjoy the sceneries along the way. It locates on a small hill with an evaluation of 4200m above sea level. From Lhasa drive to Taktse town and next to the gas station (T-junction) drive to Palna village through tiny-width cement road, both sides there will be agricultural lands, typical Tibetan villages, and animals. The crystal-clear river which flows from Chidulgang is the main source of water for animals and agricultural lands in Palna village. This village is divided into 11 groups (villages and nomads together) and Tsebu Gang falls under the 11th group. Tsebu Gang falls under pure nomadic families with 49 houses and they mainly rely on animals and its products for their daily life. Due to huge development all the children get a free education from government and youngsters go to cities and other bigger environment for labor, they usually go out in spring and comes backs in Autumn. Adults usually work for their family and look after their animals and graze the animals on mountains and valleys. Elders now a days give a helping hand to adults and then look after children who needs to send-off and pick-up from school. Currently their main income is still the products from their animals. Thus, I can guarantee you that it will be best tibet tours if you just make a visit and see yourself.
Moreover, this will be a perfect tourist destination to experience the local culture at nomadic area, they still practice old fashioned traditional Tibetan nomadic life. They produce butter, they serve real Tibetan butter tea using old style butter tea barrel. The left ones from butter they create fresh Tibetan quark, so paying a visit to this place will open your eyes to the old time Tibetan times. Apart from this, they also have Tui (mixed of Tsampa, butter, quark, sugar). So don't wait and travel tibet during the Chinese holiday to see more real part of nomad life.
In a nutshell, everyone knows most popular tibet tour packages but such interesting tours are not stepped by a single person so just pack your things and be ready for the adventure. At the same time, your short visit to this place will help the economy of Tsebu Gang nomads.
For any Tibet travel related information, please write to us at sales@exploretibet.com and we will update the information as per your requirement.