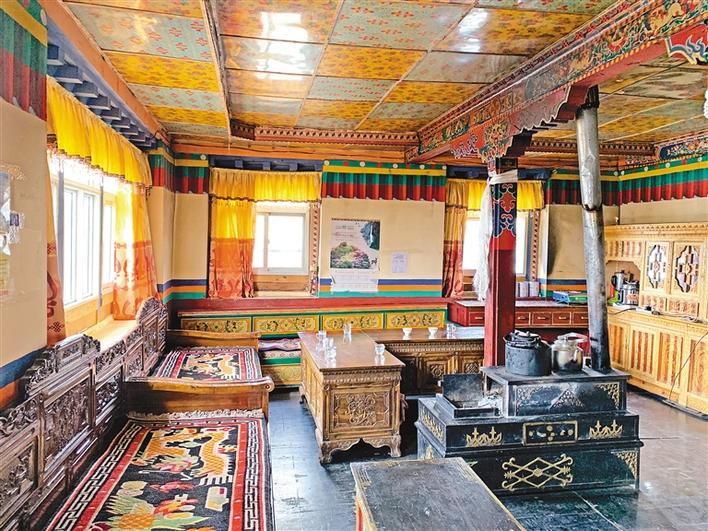 The living room in Tsering Yuzhen's new house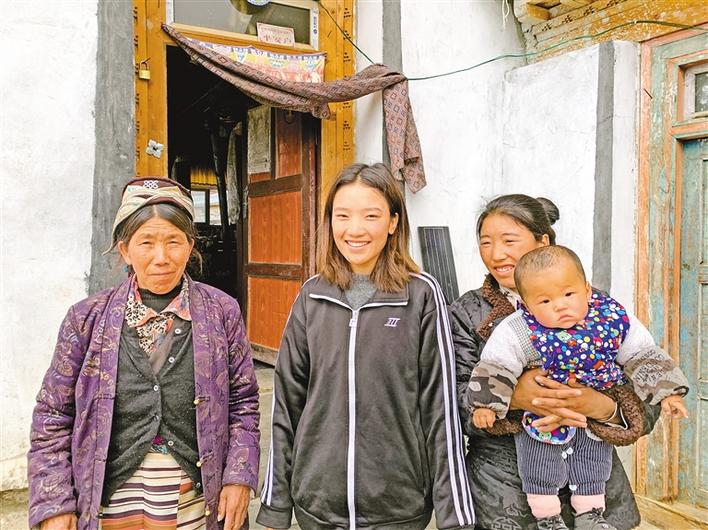 Family photo of Tsering Yuzhen in front of their new house  
Tsering Yuzhen is a 60-year-old villager in Lang Township, Lang County, Nyingchi City, Tibet. She has two daughters. Although small, her house is clean, with all kinds of furniture and appliances inside. "Our house was small and broken, only a few tens of square meters. Every time it rained, the house leaked. In 2016, the government helped us renovate and expand the house. We only paid 5,000 yuan for the new house. Now the new house is about 250 square meters," said Tsering Yangjen, the elder daughter.  
In the past, Tsering Yuzhen's family income was almost entirely from growing highland barley. Having to support her second daughter's study, she lived a relatively difficult life and was a designated impoverished household in the village. However, with the support of national poverty alleviation policies, Tsering Yuzhen's family of four can receive an ecological job subsidy of 3,500 yuan per person per year. Her elder daughter has become a rural road maintenance worker and earns 12,000 yuan per year. In addition, Tsering Yuzhen also raises four yaks and three dzo (yak-cow mixed breed).
After village roads were repaired, harvest machines were used to help harvest in the village. In addition to growing barley, the elder daughter also does odd jobs during the off season. In 2018, Tsering Yuzhen's family was lifted out of poverty.  
"After entering university, the state gives us 7,900 yuan in education support every year. I wish to study hard so that I could help more people after graduation from university." her second daughter, Kelsang Drolgar said.
Editor:Yanina