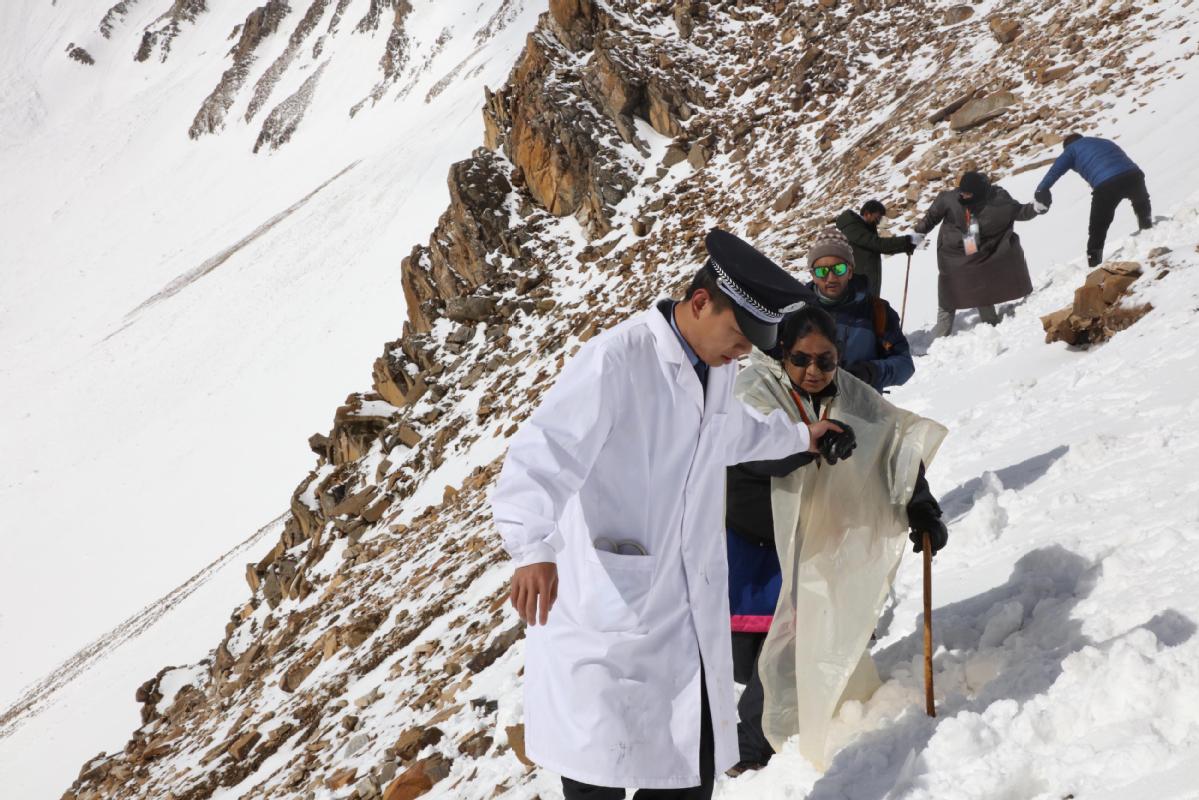 A border control officer helps pilgrims from India along a steep slope on the mountainside during their religious trek in the Tibet autonomous region on Thursday. [Photo/China News Service]
The first two official Indian pilgrim groups arrived in the Tibet autonomous region on Thursday as part of an annual pilgrimage that will last 9 to 12 days.
Fifty-eight Indian pilgrims entered Tibet through Burang county and 36 via the Nathu La Pass in Dromo county.
Goel Ram Rattan, 67, the oldest member of the group entering via the pass, said she was making her second pilgrimage.
"It is a great pleasure to come to China again, and the hospitality of the Chinese government is appreciated," she told Xinhua News Agency. "I would like to come again if I have the opportunity."
Every year starting in May, Indian pilgrims make a religious trek to Tibet's Mount Kailash, or Gang Rinpoche, and Mapham Yumtso Lake, also known as Lake Manasarovar, both in Ngari prefecture.
Both sites are considered sacred by Hindus, Buddhists, Jains and Tibetan Bon practitioners.
The foreign affairs office of Shigatse said the city is expected to receive 550 pilgrims, divided into 10 groups, this year. The entire pilgrimage lasts about 70 days.
Burang borders Nepal to the south and India to the west. Chungla Mountain pass, 23 kilometers from Burang, at an altitude of 5,334 meters, is the officially designated path for the pilgrims.
Kalsang Namgyal, head of the Burang entry-exit border inspection station, said there is snow cover all year and that the environment is harsh. Many of the Indian pilgrims get altitude sickness.
Emergency medical aid was provided by entry-exit officers, and support services - guides and porters - were provided to make things easier for the pilgrims, Kalsang said. "They'll complete the journey despite all the discomfort brought by the altitude."
Yang Fan, an official at the Dromo entry-exit border control station, said a special passage for pilgrims was opened from India to simplify procedures and improve the efficiency of customs clearance.
Nathu La Pass, which is more than 4,000 meters above sea level between Tibet's Dromo county and India's state of Sikkim, is another major passageway for pilgrims in the region.
Since the pass began receiving officially organized groups of Indian pilgrims in June 2015, more than 900 have entered Tibet through the pass.