Early in the morning on May 14, Losang Tsultrim has gotten up earlier than most. "Today is a big day. I'm a little nervous," he said. After washing his face, he walks over to the stupa to chant sutras.
The "big day" that Losang Tsultrim mentioned is the 15th Tibetan Buddhism Advanced Academic Title Examination held by the High-level Tibetan Buddhism College of China. For one week starting May 14, 40 student monks will undergo rigorous Buddhist scriptures debating examinations and a harsh thesis defense in an attempt to qualify for the Thorampa advanced academic title of Tibetan Buddhism.
There aren't usually many students who come here to pray at this time of day, but this morning, Losang Tsultrim met many students on this stretch of road. After all, in order to prepare for this exam and earn the advanced academic title, the student monks have been preparing and waiting for this moment for a long time.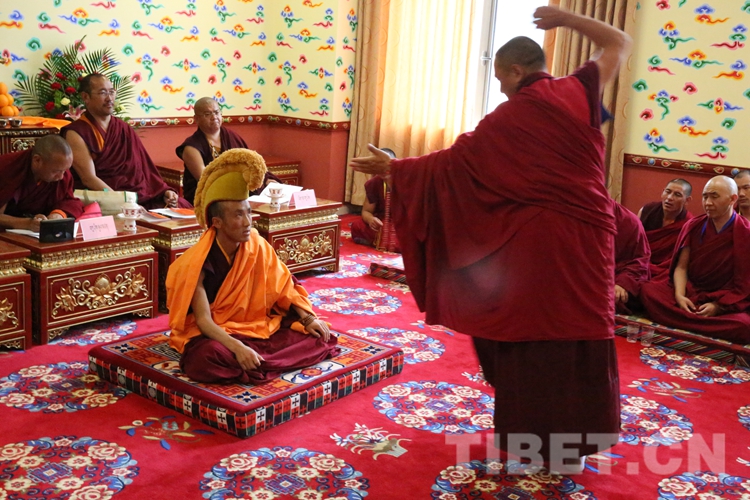 Losang Tsultrim who wears a yellow hat is participating in the Buddhist scriptures debating examination of the 15th Tibetan Buddhism Advanced Academic Title Examination held by the High-level Tibetan Buddhism College of China.
33-year-old Losang Tsultrim was born in Chaya County, Chamdo City, southwest China's Tibet Autonomous Region. His parents had a small business in the village and raised five children, of whom Losang Tsultrim is the oldest. It is a long-held tradition for Tibetan families to send their most intelligent child to the monastery due to their Buddhist faith.
It can be said that Losang Tsultrim's destiny with Buddhism is very deep, even without his family reasons. Becoming a monk was his own idea, and Tashi Choling Monastery which is more than 800 kilometers away from his home in Nyingchi City is where he started to follow in the footsteps of the Buddha. This is a very small monastery. The person who recommended Losang Tsultrim to the monastery is his uncle, a sutra teacher. His uncle previously studied at Lechung Monastery in Lhasa, which was founded by the 10th Panchen Lama. He graduated from there with honors and then studied at Ganden Mastery for three years. Then he was sent to Tashi Choling Monastery as a sutra teacher.
Losang Tsultrim studied preliminary Buddha dharma for four years at Tashi Choling Monastery before moving to Ganden Monastery to study as his uncle once did. At Ganden Monastery, he completed the preliminary study of the five major theories. This became an important cornerstone for his future Buddha dharma studies.
"Being able to study Buddha dharma at Ganden Monastery is itself a kind of honor," Losang Tsultrim said a little proudly.
This ancient monastery, located 3,800 meters high on Mt. Wangkuri on the south bank of the Lhasa River, is one of the most special of the six major monasteries of Gelug Sect. of Tibetan Buddhism. It was built in 1409 by Tsongkhapa, the founder of the Gelug sect of Tibetan Buddhism, and to this day it has had an important influence on the entire Tibetan Buddhist religious community.
In the traditional monastic education system, achieving the Larampa Geshe degree is the common wish of student monks of the Gelug sect in Tibet and Tibetan-inhabited areas. Larampa Geshe is a Geshe degree in which monks at Drepung, Ganden, and Sera Monasteries, the three major monasteries in Lhasa, had to undergo debates about the five major theories in order to earn. This high-level degree was difficult to earn; many people tried, but only a few earned it. A monk who hoped to earn the Larampa title had to study diligently for several, even dozens of years. Some studied their whole lives and still could not achieve this degree.
Under the guidance of his master and senior fellow monks, young Losang Tsultrim also aimed at earning the Larampa degree.
"I spent nearly 20 years in studying the five major theories. I woke up at 7:00 am to chant sutras for one hour, then after breakfast and lunch, I would study for another three hours respectively. After dinner, I would also study some more. There were two sutra debating practices at 1:30 in the afternoon and 7:30 at night," said Losang Tsultrim.
Young monks always have times where they act naughty. "Sometimes I wouldn't chant sutras seriously, and my master would hit me ferociously."
But Losang Tsultrim said: "I didn't regret becoming a monk because this is my life goal."
He resolved to make something of himself and worked hard for several years, becoming one of a few young monks from Ganden Monastery who completed the preliminary study of the five major theories.
In May 2018, Losang Tsultrim finally arrived at the examination grounds of Sera Monastery for the Larampa degree preliminary exam. He passed with high marks, and in April 2019, he arrived at the Jokhang Temple for examination. There he faced competitors from monks in the three major monasteries in Lhasa, the eyes of people watching with interest, and countless intricate questions from the examiners. He answered calmly and became the one to be successful that day. When it was announced "First place: Losang Tsultrim", he was extremely excited, while his mind was already far away thinking of another "life summit" at the same time.
"2015 was a very important year for me," he said. That year, Losang Tsultrim was recommended to participate in the entrance exam of the High-level Tibetan Buddhism College of China.
"It was the first time I took this kind of exam, and I thought it was very formal and modern," Losang Tsultrim remembered. In addition to examining students' knowledge of the five major theories, they also tested students on the Constitution, Tibetan grammar, and Chinese language. It was clear that for Losang Tsultrim, who had only received a monastic education for years, comprehensive exam of the modern academic education was a little difficult.
Carrying the expectations of his masters and fellow monks, Losang Tsultrim finally lived up to these expectations and passed the admissions examination to become a student of the college.
Finally, Losang Tsultrim came to the capital, Beijing, for the first time in his life. "I was so happy to come to Beijing, so many high-rise buildings!" However, he knew in his heart that the purpose of coming there was not for pleasure. "I must earn the Thorampa degree." he said.
In 2004, the High-level Tibetan Buddhism College of China, the highest learning institution of Tibetan Buddhism, established and adopted the Thorampa advanced academic title system to accommodate various sects of Tibetan Buddhism. This marked a new stage of standardized and unified academic education system for Tibetan Buddhism compared to traditional monastic education.
While at the college, Losang Tsultrim studied hard every day. Not only did he continue his studies of the five major theories, but he also participated seriously in the general studies classes.
"The college often invited teachers from the Chinese Academy of Social Sciences and Remin University to give us lectures on the weekends. I liked listening to these," he said. "Before coming to Beijing, I couldn't really speak Chinese. Though I studied Chinese at the college, I still could't speak it well enough," he said as a slightly shy smile spread over his face. In order to expand students' horizons, "the college also organized us to visit and study in many places, and I went to Hong Kong in 2017."
Studying hard makes the time pass quickly, and 2018 arrived in the blink of an eye. Three years of studying were coming to an end. He received a notice about the Larampa degree exam from his monastery. There were monks in the monastery who suggested it would be enough for him to get the Larampa degree, but he didn't see it this way.
In Beijing he became acquainted with fellow students outside the Gelug sect, and their knowledge and virtue made Losang Tsultrim realize that he couldn't limit his views to one sect.
"After all, the Larampa is a traditional degree of monastic education, and the Thorampa is an advanced academic title. While the Larampa degree is for the Gelug sect, the Thorampa title is for the entirety of Tibetan Buddhism." He decided to first sit for the Larampa degree exam, and then go for the Thorampa title.
His decision was supported by the college. And the college allowed him to take a year off to prepare for the exam. Losang Tsultrim, feeling very grateful, boarded a plane back to Lhasa.
This year, when Losang Tsultrim returned to the college, it seems that earning first place in the Larampa degree exam did not leave him too excited. On the contrary, he seemed a bit more nervous.
"The Larampa degree exam is only an exam on sutra debating. The Thorampa adavanced academic titile examination involves not just a sutra debating, but a thesis defense as well. We don't have this in the exam of our monasteries," said Losang Tsultrim.
With the help of his teacher, he completed his graduation thesis and waited for the thesis defense, something he had never done before.
Editor: Tommy Tan.