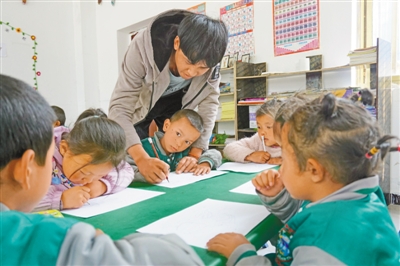 Lhakpa Dundrup teaches children to paint. [Photo/xzxw.com]
Recently, a young man has become the "Internet celebrity" of Daman Village in Gyirong Township, Gyirong County, Shigatse City, southwest China's Tibet.
Dradul was in the first group of children from Daman Village to study in the inland China. His pastime was to play on Douyin (a popular mobile video app in China). Once, Dradul uploaded his own dance to Douyin, but he never expected what would happen next. Fans said he looked like Indian star Shahrukh Khan. In a few months, his fans surpassed 10,000 on the platform.
"Next, I want to resign from my job and bring my team to Lhasa for development opportunity ," Dradul said, exultant. He told reporters that the youth in Daman Village have their own performance troupe composed of eight young people who love literature and art.
Another young man from Daman Village, Lhakpa Dundrup, has a different personality from Dradul. He also studied in inland China, but he has chosen a different dream-seeking path.
24-year-old Lhakpa Dundrup has been teaching in the kindergarten of Bangxing Village in Gyirong Township for five years. In 2014, he returned to his hometown after graduation to pursue his education dream.
Lhakpa Dundrup said: "Now, the children of Daman Village not only can go to school, they also enjoy the country's free education policy. My dream is to train more students from Daman to go to college!"
Editor: Tommy Tan.