In the early morning of January 15, the temperature on the plateau meadow in Shiqu County, Garze Tibetan Autonomous Prefecture, Sichuan Province, an altitude of 4,100 meters, dropped to minus 15 degrees Celsius. In the snow, a group of strong wild yaks with huge horns and thick fur appeared.
The wild yak is the wild species of the domestic yak. It is a unique cattle species on the Qinghai-Tibet Plateau and is a national first-class protected animal. They are extremely cold-resistant and can be found distributed in western Sichuan and Qinghai, Tibet, and Gansu. They inhabit plateau grasslands at altitudes of 3,000-5,000 meters and in plateau alpine environments such as desert areas, mountain basins, and alpine desert grasslands.

Herds of wild yaks
From the end of the last century to the beginning of this century, since the State issued a series of policies and measures protecting wild animals and ecological management, the population of wild yaks has been rapidly restoring. Nowadays, under the snow line on the sparsely population plateau, you can also encounter wild yak herds ranging from more than a dozen to hundreds.

Herds of wild yaks
Before the arrival of the Lunar New Year, reporters not only recorded the spectacular scene of yaks riding the snow to welcome the Year of the Ox, but also "captured" other wild animals including Tibetan wild donkeys, white-lipped deer, Tibetan antelopes, plateau wolves, and rock sheep that appeared on the plateau.

Herds of wild yaks

Herds of wild yaks

Herds of wild yaks

Tibetan wild donkeys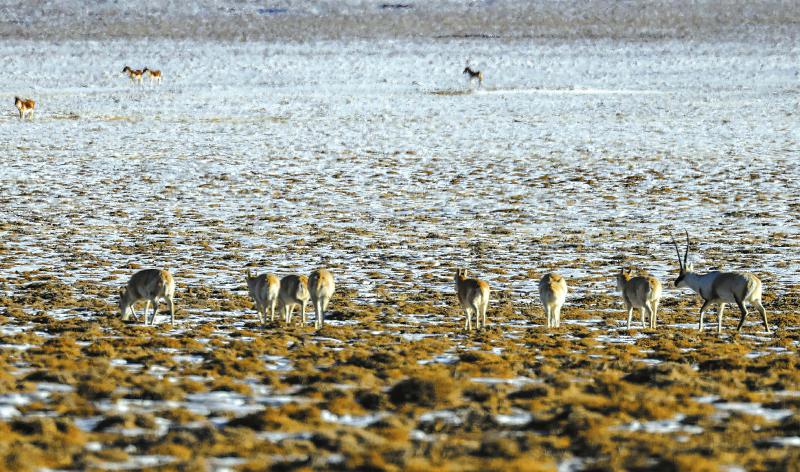 Tibetan antelopes