The setting sun shines on the rocky summit of a mountain in Dorje township of Bomi county in Southwest China's Tibet autonomous region. [Photo by Palden Nyima/Chinadaily.com.cn]
Ecological preservation and environmental protection are part of the spiritual life for rural villagers in Bomi county of Southwest China's Tibet autonomous region, where they practice eco-themed ancient opera to enhance ecological preservation awareness.
Known as Dom Dom Chi in Tibetan, or literally referring to the "Bear and Dog", the opera is practiced in Sholpa village of the region's Dorje county, and has a history of more than 300 years.
According to local Tibetan villagers, the opera has no script; the content is enriched with interesting stories that makes the audience laugh from beginning to the end. It teaches others to protect wildlife, to not harm nature and to follow ecological protection laws and regulations.
According to Drolma Tsetan, a villager in Sholpa and a renowned actor and inheritor of the opera, said the opera originated from a religious activity hundreds of years ago.
Tsetan said the opera was listed as one of nine intangible cultural heritages by the county government.
At the annual event, the villagers go atop Tara Mountain in Sholpa village to conduct a religious event, and the opera is a key part of it.
"Now the village has 11 professional actors who perform the opera every year during the event; we are also invited to perform in other surrounding villages," he said.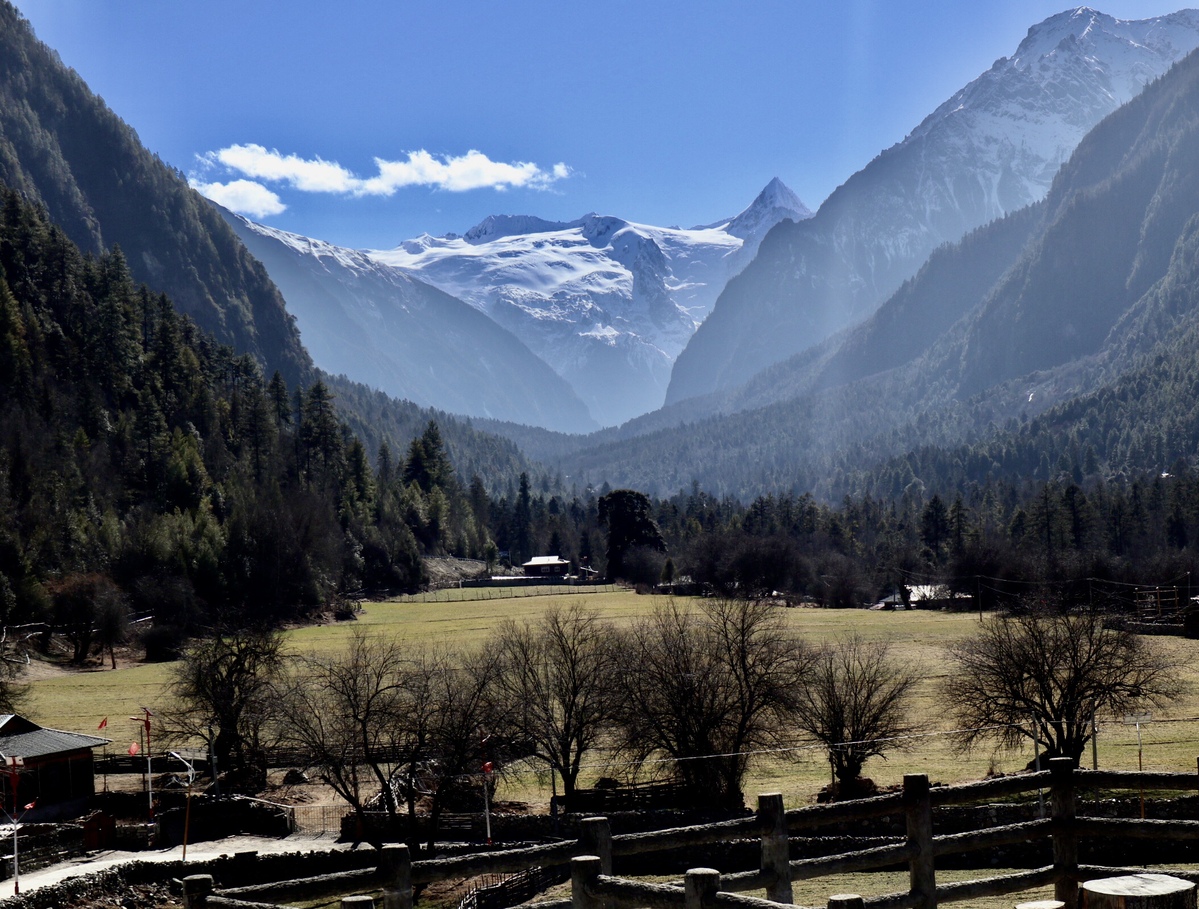 The Dongchu Glacier in Bomi county, Southwest China's Tibet autonomous region, has more than 2,000 glaciers. Bomi county is known as the hometown of glaciers. [Photo by Palden Nyima/Chinadaily.com.cn]
"The opera's actors portray a judge, two hunters, seven bears, and a dog," said Tsetan, adding the hunters are asked to turn in their weapons, to take vows to stop hunting, and the dogs and bears are told to live harmoniously.
Tsetan said under the deep influence of such an educational opera, and especially governmental efforts for environmental protection, his fellow villagers never hunt or harm wildlife. The natural environment remains healthy and wildlife lives harmoniously in the wild today.
Each member of the village's 52 households benefits from environmental protection policies today and each receives an annual subsidy of 3,500 yuan ($541) for undertaking part-time ecological protection duties.
"We organize villagers to patrol the forest, glaciers and mountains regularly to guard nature and the animals," he said.
According to county government, the county has more than 2,000 glaciers, more than 20 species of wild animals, and more than 60 species of birds.