The protein content of mulberry leaves is as high as 80 percent, and they are very rich in nutrients such as amino acids, vitamins, carbohydrates, and trace elements. They also do not contain any hormones, and domestic pigs even love them as feed.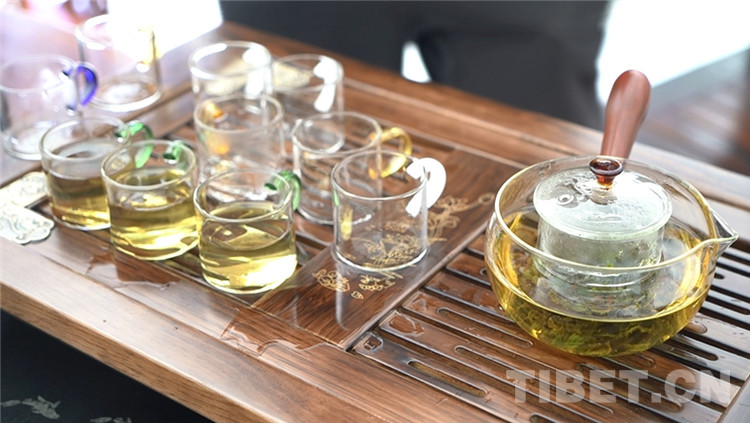 Mulberry tea made in the Snow Land.
At the Hybrid Mulberry Tree Cycle Industry Comprehensive Experiential Center in Chagyab County, Chamdo City, Tibet Autonomous Region, a staff member told the reporter: "Mulberry tea is rich in bioflavonoids. The content is four times that of propolis, and it can resist oxidation, protect the liver, clear away heat and provide detoxification. It has a good health effect on people who often drink alcohol. Moreover, it does not contain theophylline, and drinking it will not cause insomnia."
Sheep raised by the Hybrid Mulberry Tree Cycle Industry Comprehensive Experiential Center in Chagyab County are hurrying to eat leaves from the mulberry tree.
In 2017, Chamdo's first hybrid mulberry breeding base was established in Chagyab County, cultivating 14,000 hybrid paper mulberry parents and 60,000 seedlings, with an outdoor trial planting of three acres and 6,000 hybrid paper mulberry trees. Their survival rate was 100 percent. At present, the planting area for hybrid paper mulberry trees in the County has exceeded 2,500 acres. The Hybrid Mulberry Tree planting base adopts a market-oriented application mechanism led by the government, with companies forming the main body and with active participation from local people. The village collective enjoys annual dividends by means of equity participation, and farmers are allowed to become shareholders.
Canned Snow Land mulberry tea.
In July 2018, a processing plant for hybrid paper mulberry tea leaves was established in Chagyab County. In recent years, the processing plant has produced 8,000 to 10,000 boxes of finished tea each year, and it has an annual output value of 1.5 to 2 million yuan. This has promoted the employment of 103 people from 20 government-recognized impoverished households.