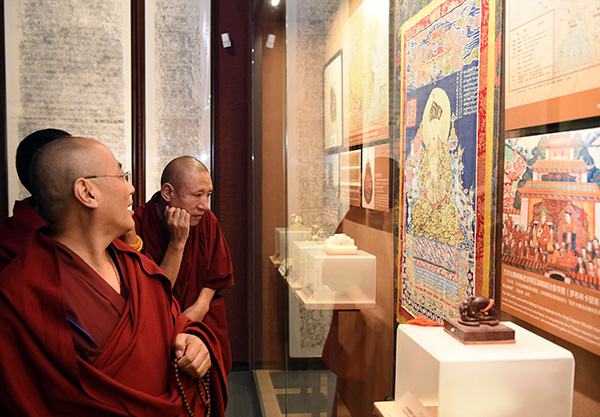 Monks visit an exhibition showcasing democratic reforms at the Tibetan Cultural Museum in Beijing on Friday.[Photo by Hou Yu/China News Service]
An exhibition in Beijing showcasing democratic reforms in the Tibet autonomous region provides detailed insights on the historical movement that ended a social system based on the oppression and economic exploitation of serfs and slaves, visitors said on Sunday.
Before democratic reforms were undertaken in 1959, Tibet had long been a theocratic feudal serfdom, a society characterized by a combination of political and religious power.
To mark the 60th anniversary of the beginning of reforms, an exhibition - Monument to the End of Serfdom - at the Tibetan Cultural Museum in Beijing opened on Friday. Many historical files and photos documenting the movement, with captions in both Mandarin and English are on display. The exhibition will be free to the public until the end of December.
Democratic reforms in Tibet follow the historical trend and represent the will of the people, and they represent an important event in the development of human civilization, said You Quan, a member of the Secretariat of the Communist Party of China Central Committee and head of the United Front Work Department of the CPC Central Committee, during the opening ceremony on Friday.
The exhibition will help people around China, including Tibetans, to remember the event that transformed Tibet. It will also help people understand the intentions of the Dalai clique, which seeks separation from China, Norbu Dondrup, vice-chairman of the region, said at the ceremony, adding that Tibetans currently have a strong desire for a stable social environment in the region.
Xu Jining, a teacher from the Inner Mongolia autonomous region who visited the exhibition on Sunday, said: "The exhibition in Beijing will give people around the country a chance to better understand democratic reforms in Tibet, which may be very distant to them. Also, people will come to realize its importance for China."
Xu, who was on a business trip in Beijing, went to the exhibition after hearing about it on the news.
Another visitor, Guan Xuantong, a civil servant from Jilin province, appreciated the display.
"After seeing the displays, which are rare - such as official government documents and coded telegrams from the separatist forces - that part of history has truly come alive," Guan said.