47-year-old Tamdrintso, is a representative to the National People's Congress (NPC) and a rural doctor in Manma Village, Sangkho Township, Xiahe County in the Gannan Tibetan Autonomous Prefecture in Gansu Province. Even today, she still rides her horse back and forth on the grassland to give health checkups to nomads, and is therefore called by local people "horseback doctor". This year, she has brought "six wishes" with her as she participates in the annual session of the 13th NPC.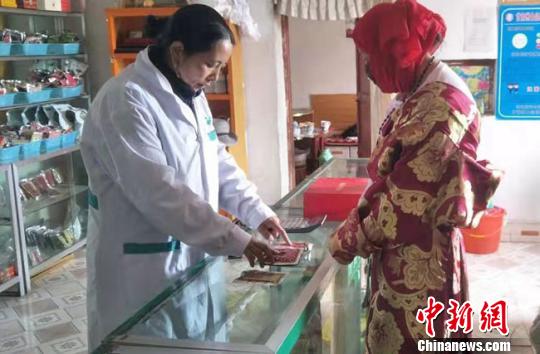 Photo shows Tamdrintso (first from left) fetches medicine for a patient.[Photo/China News Service]
In regards to food safety, Tamdrintso proposes "an alarm system for the safety of food and medicine."
Iin regards to the reimbursement coverage for cooperative medical services in rural areas, Tamdrintso said rural medical conditions are poor, and many nomads are forced to travel to hospitals in larger cities to see a doctor. This virtually increases 'their cost to see a doctor. There are also some high-end medicines that are not covered by the reimbursement system, so illness remains a big factor of family poverty. In this regard, she proposes to increase the proportion of hospital reimbursement amounts and to include some high-priced medicines in the reimbursement coverage.
In terms of education Tamdrintso proposes: "children in Tibetan-inhabited areas should learn traditional culture from an early age." She said that each ethnic minority has its own wonderful traditional culture, and traditional culture education should be started from the time when children are small, especially using their mother tongue to learn about their traditional culture. She recommends that mother tongue learning should begin in kindergarten. She says that the mother tongue is one of the most important tools for inheriting one's traditional ethnic culture.
With regards to ecological protection, Tamdrintso said that in the past few years, since Gannan has started implementing the state's grasslands reward and subsidy policy for carrying out ecological protection measures, the number of all kinds of livestock has been reduced in a planned way under supervision of the government, and the public's awareness of the balance between grassland and livestock continues to increase. In order to further enhance the long-term balance of grassland and livestock to fundamentally solve the contradiction between the two, she hopes that reward and subsidy funds can continue to increase to this end.
With regards to training rural medical professionals, Tamdrintso has her own concerns. "The doctors who come out of Gannan do not wish to return. Doctors from outside are also not accustomed to the environment here, and they do not wish to come. This means that doctors in the villages are extremely scarce." She said that she hopes the state will provide "oriented-training" and prioritize the training of local medical professionals.
"My biggest wish is that relevant government departments will be able to grant qualification for old village doctors like me to open their own clinics to treat patients," said Tamdrintso. "Right now, rural doctors are directed and managed by the township health centers; there is no old age insurance for those over 45. Some village doctors are not able to test for a medical certificate, though, and they don't want to abandon the profession of being a village doctor."
Tamdrintso said that she hopes the state shall issue policies for village doctors in remote and harsh mountain regions according to local conditions and allow them to open their own clinics.
Editor: Tommy Tan.