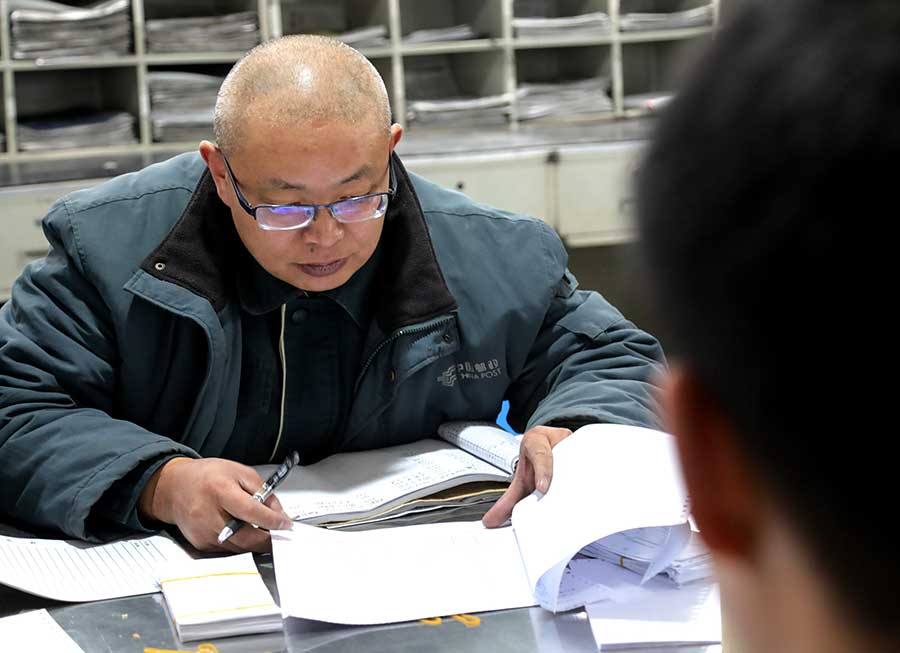 Ge Jun works at China Post's branch in Golmud, Qinghai province. [Photo/Xinhua]
Starting from the city of Golmud in northwestern China's Qinghai province, the Qinghai-Tibet Highway winds south through the mighty Kunlun Mountains and beside the Chumar and Tuotuo rivers.
Every week, Ge Jun, a courier for State-owned China Post's Golmud branch, drives a green van carrying parcels along the route between Golmud and the town of Dangla, also in Qinghai, The delivery route, launched in 2009, crosses a vast landscape of ice, snow, mountains and rivers in an area with an average altitude of 4,500 meters.
"One round trip on the route is about 900 kilometers, and so far I have covered about 450,000 km," the 43-year-old said. "The distance between Earth and the moon is 380,000 km, which means I have already landed on the moon in that sense!"
China's booming e-commerce has led to a rising number of parcels, with the country's express delivery sector having handled 50.7 billion parcels last year, an annual increase of 26.6 percent, according to the State Post Bureau. Meanwhile, the sector generated revenue of 603.8 billion yuan ($90 billion), up 21.8 percent year-on-year.
For Ge, transporting parcels on the Qinghai-Tibet Plateau is no easy job. The route passes through one of the most hostile places on Earth, with the atmosphere having just 43 percent of the oxygen found on the plains.
The annual average temperature is -6 C, and the average number of days with strong gales is 168.
But perhaps the most difficult part of Ge's journey is a 100-meter-high mountain ladder known as the "Sky Ladder". "I still remember carrying a 10-kilogram parcel while climbing up the ladder in -15 C, and all I could hear was my heavy breathing," Ge said.
"Eight years ago, I climbed up the ladder for the first time. I felt dizzy halfway up, and I had to rest frequently to finish my journey."
Bao Junfeng, from China Post's Golmud branch, said, "The route is probably the world's longest and highest rural route for deliveries."
Due to years of work at high altitude, Ge's lips look purple. Frequent attacks of altitude stress, influenza and inflammation have caused him to lose three of his teeth.
Last year, the company organized a medical examination for the couriers, and Ge was diagnosed with two kidney stones. "My family was nervous about my health and urged me to go for an operation, but I was so attached to my job that I just couldn't make time for it," he said.
Ge takes turns with his colleagues to make deliveries on the "sky route".
"Because the route is so long, the meals we often take with us in the morning are too cold to eat when we are ready to have breakfast," Ge said.
Last year, a river at an altitude of 4,570 meters blocked Ge's way after flooding a road on the route.
"I was stranded there for three days," he said.
For Ge, taking the route is mostly about "driving in the daylight and watching stars at night". Sometimes, he encounters injured wild animals like Tibetan antelopes on the road. He then contacts local wildlife rescuers to help them.
Ge has also helped some people on his way. In 2012, he found a cyclist from Taiwan who had passed out. He helped the man into his van and treated his injuries with a first-aid kit.
"In very remote areas of China, delivery services are mostly only provided by China Post," Ge said.
"I may be alone on the long road, but I am proud of my job."