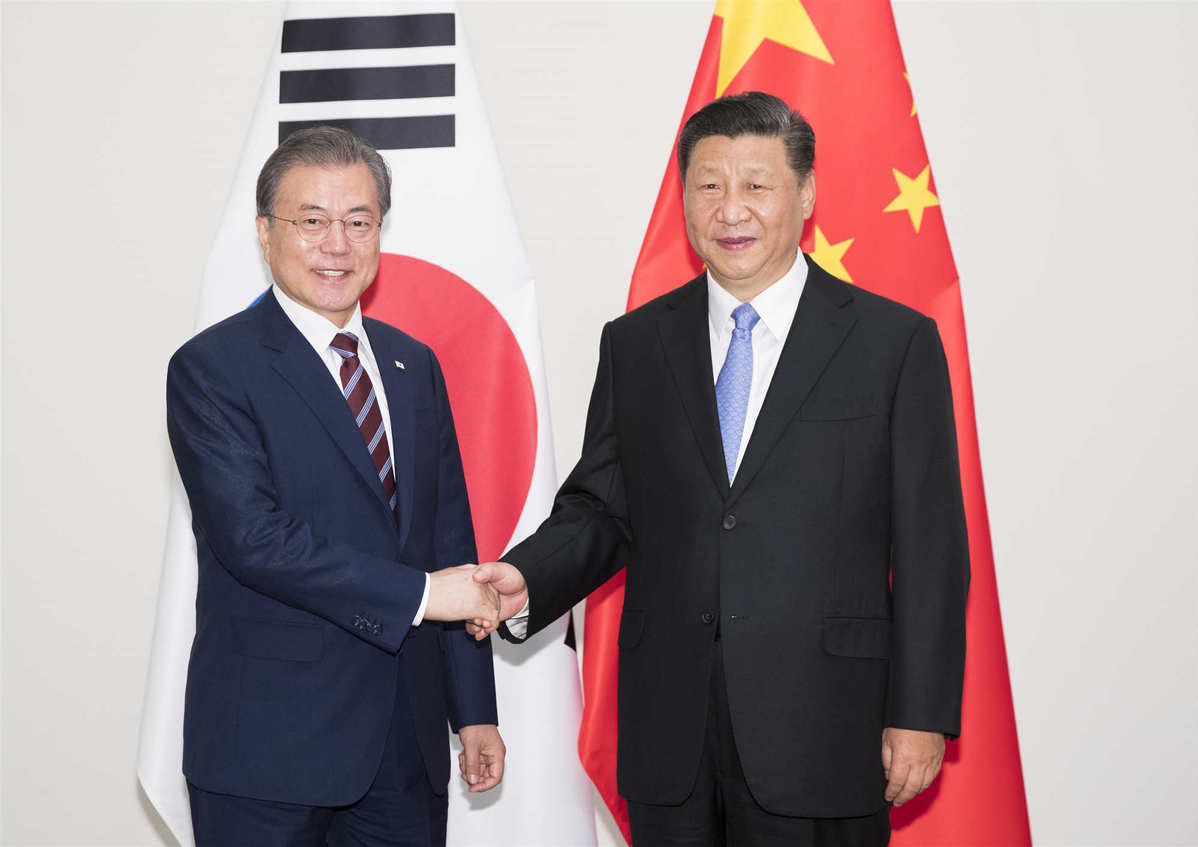 President Xi Jinping meets with his South Korean counterpart Moon Jae-in ahead of the G20 summit in Osaka, Japan, on Thursday. [Photo/Xinhua]
Beijing supports Washington and Pyongyang in holding another leaders' summit for progress on the political settlement of the nuclear issue on the Korean Peninsula, President Xi Jinping said on Thursday.
Xi made the remark while meeting with Republic of Korea President Moon Jae-in in Osaka, Japan.
The Chinese president said the United States and the Democratic People's Republic of Korea both need to be flexible in order to make headway in their dialogue.
While the direction of denuclearizing the peninsula should be upheld, Xi said, the DPRK's legitimate concerns should be addressed as well.
Xi made a state visit to the DPRK last week. During the visit, he and DPRK top leader Kim Jong-un agreed to push for the political settlement of the nuclear issue on the Korean Peninsula to promote regional stability.
Recalling the visit, Xi said the overriding trend on easing the tension on the peninsula through dialogue remains unchanged, and political settlement of the issue is still the first option.
It has been proved that the way out for the peninsula issue comes only from dialogue and consultations to gradually address the legitimate concerns of respective parties by following a phased approach with synchronized steps, Xi said.
He urged the ROK to work with China to step up efforts to push for negotiations between the DPRK and the US.
Moon highly commended Xi's visit to the DPRK, saying the visit has made significant contributions to building the momentum of dialogue on the peninsula issue, as well as promoting peace and stability on the peninsula.
Seoul remains committed to improving relations with Pyongyang and stands ready to strengthen cooperation with Beijing on the issue, Moon said.
In terms of bilateral ties, Xi called on the ROK to speed up second-phase negotiations on a China-ROK free trade agreement, and expand bilateral cooperation in such fields as trade, science and technology, and environmental protection.
Xi said China-ROK teamwork is mutually beneficial and should not be affected by external pressure. He expressed the hope that Seoul will continue to properly deal with problems between the two countries.
Xi also called on the ROK to strengthen coordination with China within multilateral platforms such as the United Nations and the G20, jointly oppose protectionism, uphold multilateralism and free trade, and advance the building the open global economy.
Moon said his country stands ready to work with China on third-party market cooperation under the framework of the Belt and Road Initiative. Safeguarding multilateralism, free trade and an open economy also matters to the ROK's interests, he added.