Photo shows Albert Ettinger gives a speech at the 2019 China Tibet Development Forum.
67-year-old Albert Ettinger is a famous Tibetan scholar from Luxembourg. His destiny with Tibet began during the 2008 Beijing Olympics torch relay. The so-called aid-Tibet group's attack torch relay made him angry. Since then, he has sprouted the idea of investigating the true situation of Tibet.
After reading many Western books, archives, and documents about Tibet, since 2014, Mr. Ettinger has published two books: Free Tibet? Power, Society, and Ideology in Old Tibet and The Struggle Around Tibet: the History, Background, and Prospects of International Conflict, which introduce the real picture of the feudal system of serfdom in old Tibet. The two books are published in English, German, and Italian.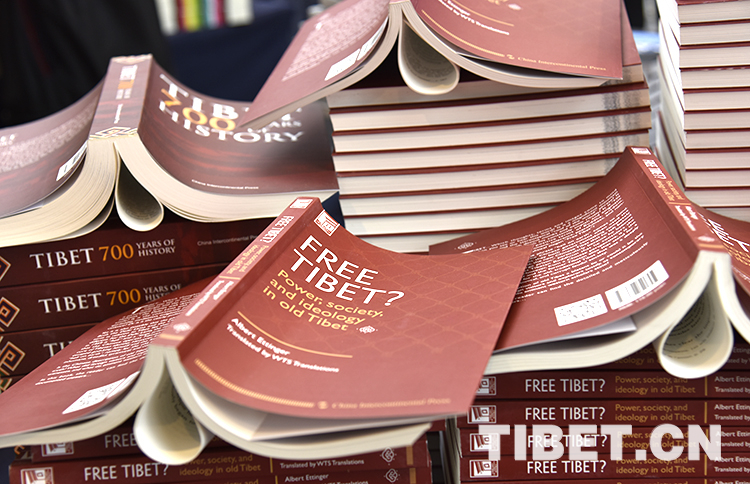 Photo shows Albert Ettinger's book Free Tibet? Power, Society, and Ideology in Old Tibet at the 2019 China Tibet Development Forum.
At the same time, Mr. Ettinger said: "Some people in the West claim there is a 'cultural genocide' in Tibet. This is totally wrong." The city of Lhasa, the capital city of the Tibet Autonomous Region, has a modern university, and its cultural heritage and treasures are well protected.
"The Potala Palace, Jokhang Temple, Norbulingka, and Barkhor Street have all been included on the World Cultural Heritage list. Samye Monastery has also been restored. Buildings in Lhasa now have both traditional and unique Tibetan elements. Younger Tibetans are also learning traditional art forms such as thangka painting. At the same time, some new forms of culture are booming and are being influenced and inspired by international culture. Many Tibetan writers and directors have also begun to film movies about Tibet and use Tibetan actors to showcase Tibet."
At the end of his speech, Mr. Ettinger said: "There is no doubt that Tibet has achieved great economic and social development in a short period of time, which provides a good reference for the rest of the world." Mr. Ettinger said that as long as he still has energy, he will continue to conduct research on Tibet and to work for telling world the real Tibet.
Editor: Tommy Tan.