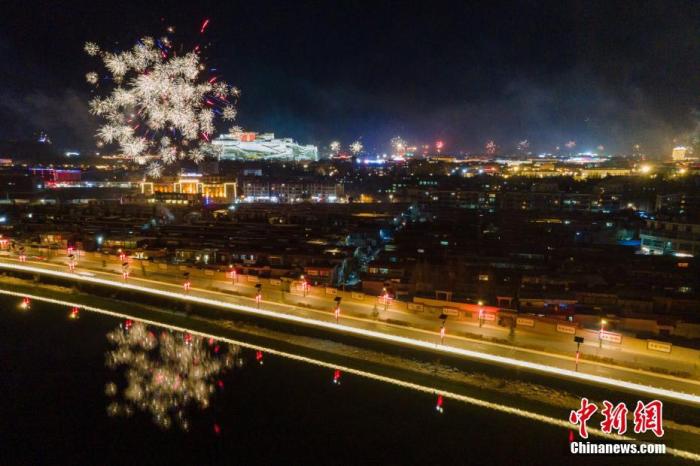 The picture shows the bright fireworks around the Potala Palace in Lhasa, capital of Tibet on the "Gutu Night".
"Losar Tashi Delek!"
On the evening of March 1, Gan Xiaoping's home in Sema Community, Nechung Street, Doilungdeqen District, Lhasa City was full of happiness.
This year, March 1 is the "Gutu Night" according to the Tibetan calendar, which is similar to the New Year's Eve of the traditional Chinese Lunar New Year. According to customs, the whole family would get together to eat "Gutu" on this day. In Tibetan, "Gu" means "9", symbolizing the twenty-ninth days and "Tu" means pasta.
In the early morning, the whole family of Gan Xiaoping put on their new Tibetan clothes. His wife Purbu Dorlma and his mother-in-law were busy with cooking "Gutu" for the family. The pot with beef soup on the stove was boiling, and the whole kitchen was full of meaty aroma. The three children were using a variety of drinks to make a heart shape on the living room table. In the room, the auspicious Chema box and red lanterns exuded the unique New Year flavor of this Han-Tibetan family.
Gan Xiaoping has lived in Tibet for 37 years. He speaks fluent Tibetan, always praised by the locals. After living with his Tibetan wife for decades, their daily habits have long been mixed and integrated. "We eat tsampa in the morning and Sichuan cuisine for lunch and dinner. My wife can cook very good Sichuan cuisine, and she speaks Sichuan dialect well."
While having Gutu, Gan Xiaoping chatted with the guests about their daily life. "When I first came to Lhasa, I did all sorts of hard work. Back then, when my family built a house, I even asked for credit to buy vegetables for three years." Recalling the past, Gan Xiaoping sighed that life was not easy. "I finally made it, and now I am very content."
Gan Xiaoping said that he once worked as a cooker, farmer and also contracted engineering years ago. Later, he made a name for himself in the logistics industry and gradually made a fortune. Now he engaged in the warehousing industry, and the business is booming.
"Lhasa has developed fast in recent years, and the vegetable fields in the past have now become buildings. I myself have benefited from the development of the city and various good policies so that I can live today's life." Talking about his entrepreneurial experience, Gan Xiaoping said that the most important thing in doing business is to be honest and trustworthy. He also praised and thanked his wife, "She always supports me in everything I do, and is very filial to my parents. She is a virtuous helper."
Gan Xiaoping's daughters Tenzin Dorlma and Solang Dekyi are both in high school, and their New Year's wishes are related to their study. "We hope we can do better and be admitted to ideal universities." As for Gan Xiaoping, his New Year's wish is all about work and inspiring, "I hope I can manage the company well, and employ more people. Besides, I want to do my best to help others."
After dinner, the family lit torches and ran without looking back to "drive away ghosts". Then everyone lit fireworks, and the night sky was bright.