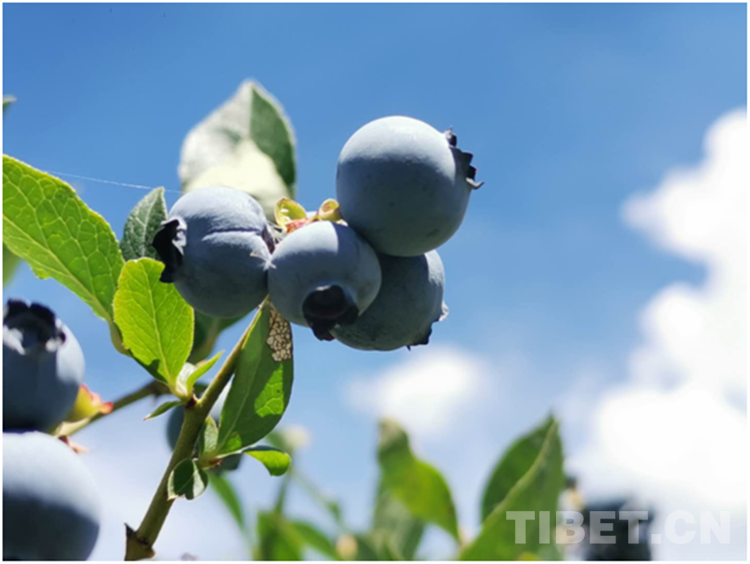 August is the blueberry-picking season. Walked into the blueberry base of Gama Jitang Village in Lengda Township, Gyacha County, Shannan City, Tibet Autonomous Region, the blueberry trees were full of mouthwatering fruits.
In 2012, Gama Jitang Village started planting blueberries. In 2013, the village invested a total of 8 million yuan (about 1.2 million US dollars) in the construction of a blueberry base. At present, the blueberry planting area reaches 206 acres. The base has created jobs for over 20 people from the surrounding areas with an average salary of 80 yuan per day (about 12 US dollars). In 2019, a total of 107 people came to participate in the development of the blueberry industry, and nine people from three households were driven out of poverty. The base achieved a net income of 260,000 yuan (about 37,726 US dollars) through the sale of fresh fruit and fruit wine.
According to villager Kelsang Tenzin, in the past, after digging for cordyceps on mountains, he had nothing else to do. Now, he can increase his income near his home.
For villagers in Gama Jitang Village, in addition to earning more money with labor, they can also receive dividends every year from the village collective economy. "Now, life gets better, and every household has a private car!" a villager named Alai said excitedly.
For blueberry sales, Gama Jitang Village has formed a combination of online and offline shops. In July this year, the base held its first Blueberry Base Picking Festival, which will become an annual event.
This former wasteland has become greener with wealth. The small blueberries have turned into big a business, increasing people's incomes and helping them become rich. They also make the land of Gama Jitang Village greener and the scenery more beautiful.