British Prime Minister Theresa May on Wednesday won by a large margin a confidence vote by her fellow Conservative members of parliament.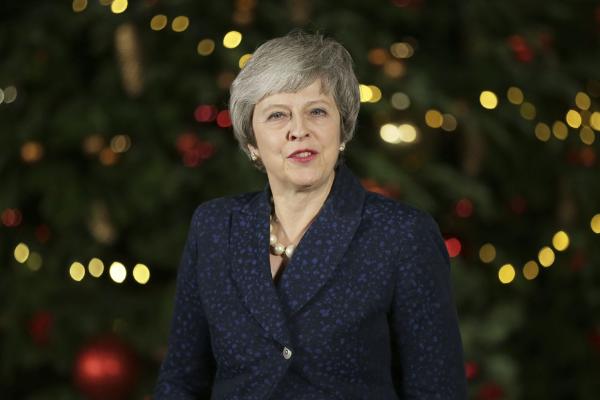 British Prime Minister Theresa May makes a statement outside 10 Downing Street, in London, Wednesday December 12, 2018. [Photo: AP/Tim Ireland]
  The prime minister won the secret vote, which started at 1800 GMT and ended two hours later, with 200 out of 317 Tory MPs supporting her to stay on as the party leader.
  "The result of the vote is that the parliamentary party does have the confidence in Theresa May," Graham Brady announced the result. Brady is the head of the so-called 1922 Committee which organized the vote after reaching required threshold that 48 Tory MPs called in their letters for the ballot to be held.
  May needs 159 votes to win, and with the new victory, there can not be another challenge for her for a year.
  An applause erupted in the hall upon the vote outcome.
  During the secret vote, all 317 Tory MPs ticked one of the box on the ballot: "I have confidence in Theresa May as leader of the Conservative Party" or "I do not have confidence in Theresa May as leader of the Conservative Party."
  MPs had lined up to enter Committee Room 14 in parliament to cast their votes in the secret ballot from 1800 GMT. The secret vote was closed at 2000 GMT.
  First in the queue was Digital Minister Margot James who said, "I'm first in the queue giving my support 100 percent (to the prime minister)."
  The Wednesday vote was the first of its kind in nearly four decades in the country.
  Just hours before the vote started, the prime minister made a last-minute appeal for support at an emotional meeting of backbench MPs.
  She told them she will not lead the party into the next scheduled election in 2022, but she wants to stay on to deliver her Brexit deal.
  After the vote, James said she was "proud" to have voted for the prime minister, tweeting a picture of her ballot paper.
  Conservative Party rules say that if she wins tonight she can stay on as leader, undisturbed, for another 12 months.