A common concern among travelers to the Tibet Autonomous Region (TAR) is which way to get there. Travel to Tibet can be done either by flight or by using the famous Tibet Trains, and each has its own popularity among tourists to the plateau region. Some prefer to fly, even if they have time for taking trains, while others prefer the tranquility and peaceful travel by train, and would recommend it as the best way to travel. However, as both options have a wide range of positive and negative points when it comes to traveling to Tibet, deciding on which means of transport to use can be a hard choice for tourists to the Roof of the World.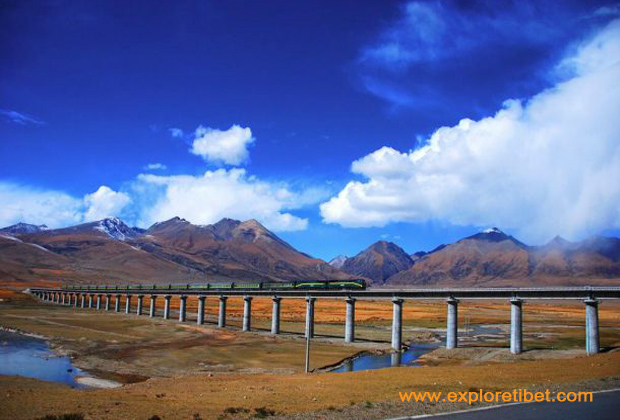 Qinghai-Tibet Railway
Benefits of the Tibet Train
Spectacular Scenery along the Qinghai-Tibet Railway
One of the major benefits of taking the trains is the view outside of the windows as you cross the Kunlun and Tanggula Mountains and steam down across the plains and prairies to Lhasa. This staggering view of the splendid natural scenery of the northern areas of Tibet and southern parts of Qinghai Province is one of the best views that you will find on any train anywhere in the world. The sheer beauty of this almost uninhabited landscape, with its high mountains, shimmering lakes, vast open prairies, stunning scenery, and awesome wildlife makes the train journey to Tibet well worth taking.
Saving Cost on Travel
The trains are also much cheaper than flights from the same departure city, which means you can make a rather large saving on your transport costs to Tibet. On average, the cost of the trains is normally less than half of the cost of a single economy flight, even if you opt for the most expensive seat in the first-class soft sleeper cabins.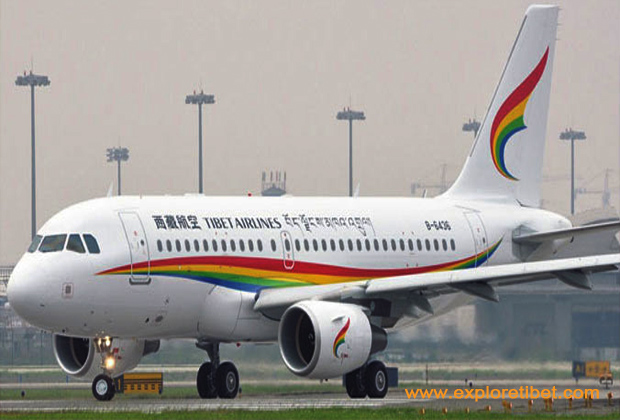 Tibet Airline
Benefits of the Tibet Flights
Save Time with Non-Stop Flights
There are non-stop flights to Lhasa from more than two dozen locations across inland China. And with flight times ranging from 2 hours to 8 hours, you have a wide range of flight to choose from. Non-stop flights are a benefit for shorter travel times, as they run without stopping to Lhasa, and can get you there faster than any other means of transportation. However, the direct flights are often more costly than any other means of trips to Tibet.
Flexible Departure Locations in China or Nepal
Flying into Tibet actually means you have two options for which direction to come from. Direct flights not only depart from all across inland China on a daily basis, but you can also fly direct to Lhasa from Kathmandu in Nepal. Nepal is the only country in the world with direct international flights to Tibet. And with flights taking just 90 minutes, which is faster than any flight from inland China, traveling through Nepal is definitely a wise option. Choosing to fly to Tibet means that you have a wider choice of departure locations available.
Flights to Other Regions of Tibet
Tibet currently has five airports that accept flights from inland China, though they are often limited in where you can fly from. Aside from the main Lhasa Gonggar International Airport, the only international airport in Tibet, you can fly from certain airports in inland China to Nyingchi Mainling Airport for easier access to southeast Tibet; to Qamdo Bamda Airport in Bamda Village for access to the Chamdo region of Tibet; to Ngari Gunsa Airport in Shiquanhe for access to Ngari Prefecture and faster travel to Mount Gang Rinpoche; and to the Shigatse Peace Airport for easier and faster access to Shigatse and Mount Qomolangma.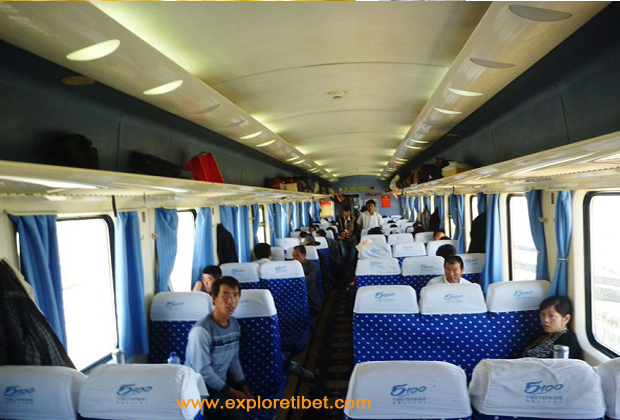 Hard Seats on the Train
Combine the Flight and the Train
If you want to get the best of both worlds, then the better experience for Tibet Tours is to use both flight and train, mixing both means of transport into an unforgettable journey to the plateau. The peak season for tourism in Tibet is the busiest time of year, and thousands of visitors pass through the train station and airport on their way to the capital city of Lhasa. This busier period means that both trains and flights are utilized to their fullest capacity to ensure all tourists traveling to Tibet can get there on time. And in the peak period of Tibetan tourism, it can be very hard to get train tickets from the major cities in China, limiting your options for taking the trains. However, there are ways you can get around this.
Fly to Xining and take the train to Lhasa
The first option for combining flights and trains is to take a flight to the provincial capital of Qinghai Province, Xining, and then join the train that departs from there for the plateau capital. Trains depart from Xining daily, and run along the famous Qingzang Railway all the way to Lhasa. The main difference in taking the train from Xining is that the trains are longer and have more carriages for passengers than from anywhere else in China. This means that you have a better chance of being able to book your ticket from Xining to get to Lhasa than from any of the other six departure locations in China.
It is also easy to get flights direct to Xining from most of the major cities across China. Travel time ranges from as little as an hour to as much as 3-4 hours, depending on where you are flying from. With the reduction in time for travel from the major departure cities to Xining by flight, you can also cut down your total travel time, yet still enjoy the best of the scenery alongside the Qinghai- Tibet Railway.
Take the Train In and Flight Out or vice versa
Another way to utilize both train and flight for your trip to Tibet is to take one means of transport to get in and another to get out. A commonly-used option for travelers, taking the train for only one of the journeys, either into or out of Tibet, can help to make your travel easier and a little faster overall.
For those that are limited on time to get into Tibet, taking the flight to Lhasa and then returning to inland China by train is the ideal option. You can get to Tibet a little faster, and enjoy your tour, yet still benefit from the stunning views that you get from the train by taking the railway route back to your destination in inland China. Alternatively, if you have the time, you can take the train to Tibet from one of the seven gateway cities, and then fly back from Lhasa, reducing the overall travel time once again.