The 10th Panchen Lama was the pride of our Tibetan people, a great Rinpoche that all Tibetans admire and love.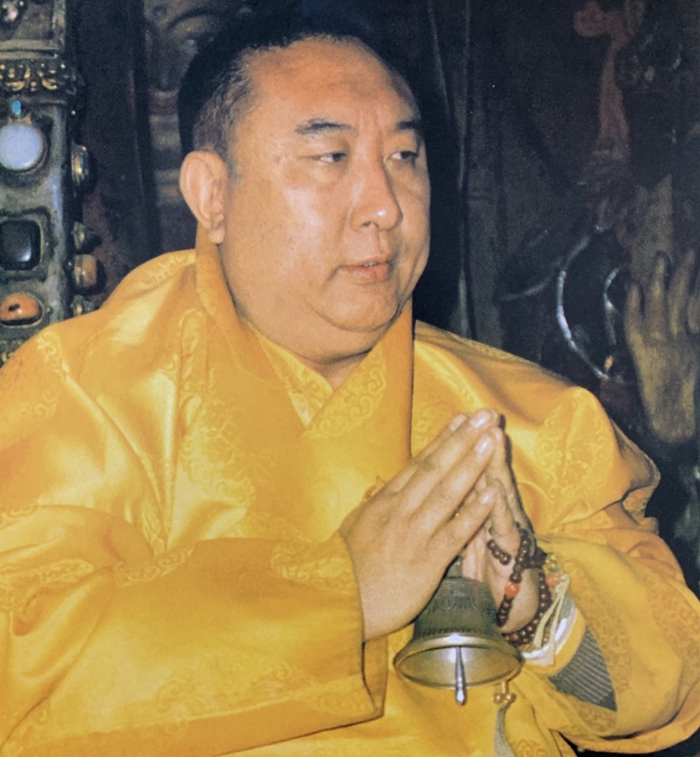 Photo shows 10th Panchen Lama Erdeni Choskyi Gyaltsen.
I used to study the five major theories on Tibetan Buddhism in the monastery. I don't know much about history, but I have heard the story of the 10th Panchen Lama a lot, and it makes me deeply respect and admire him. In September 2015, I arrived at the High-level Tibetan Buddhism College of China, which was established on the suggestion of the 10th Panchen Lama. It can be said that it was the Rinpoche's compassion, enlightenment, and forward thinking that inspired me to further study at the college.
The Rinpoche once said that if there is no monastery, then you can build one; but if there is no culture, there is no way to re-establish it, so the most important thing for an ethnic group is their culture. During his lifetime, the Rinpoche traveled to impoverished Tibetan-inhabited areas, where he repeatedly stressed that rural development was not about building a monastery, nor is it simply about giving help, but that children must go to school and learn culture. He emphasized that if an ethnic group does not have its culture or its own characteristics, then it will slowly die out; an ethnic group with a small population and region can continue to exist as long as it protects its own culture and characteristics.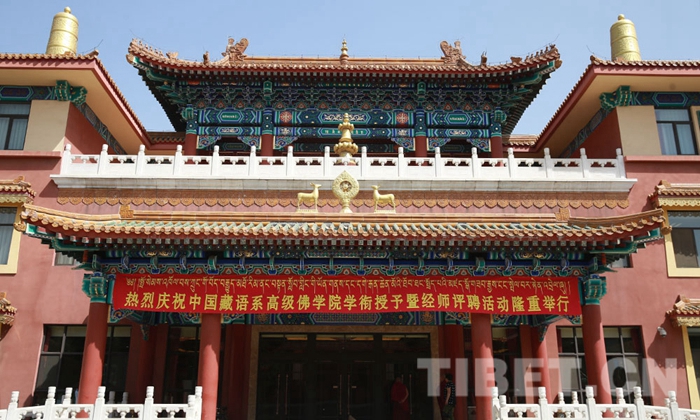 Photo shows the Sunshine Building at the High-level Tibetan Buddhism College of China.
I remember that when I first came to the college, I couldn't even say one sentence in Chinese. Besides, it was my first time leaving my monastery. I was not accustomed to all things at the beginning, especially when we would go out on the weekends. We a few classmates would go to shops to buy things, but we couldn't speak fluently, and it was exhausting. Then, I thought of the 10th Panchen Lama. He had a very high level of Chinese, and his written Chinese was also very good. I heard that the Rinpoche learned Chinese just from a Xinhua Dictionary, so I also bought a Xinhua Dictionary and studied hard day and night.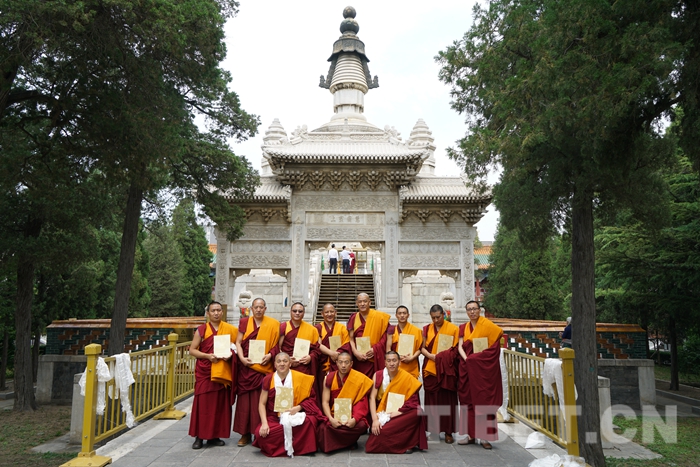 Photo shows a group photo of Thorampa title earners of the Glug Sect of Tibetan Buddhism at the High-level Tibetan Buddhism College of China. The author of this article, Reba, is third from the right in the back row.
During the three years I studied at the college, the professors that the college invited to teach us were famous and well-known masters from Tibet and Tibetan-inhabited areas in other provinces. The college also invited teachers from famous universities in Beijing who taught us politics, history, and computers. They also arranged us trips to monasteries and museums in Beijing and in other cities as well as educational exchanges, including to Hong Kong where we met with several high monks there.
The college paid for our housing, food, and transportation expenses to and from our homes. If you got sick, the college would immediately arrange for you to visit the hospital for examination and treatment. All of this is evidence of the state's support for Tibetan Buddhism. It is also the return of good deeds done by the 10th Panchen Lama during his lifetime.
In addition to loving his own people, the 10th Panchen Lama always emphasized unity among the various ethnic groups in China. The Rinpoche said that if a family is not united, then there will be suffering, and the family won't be happy; if villages are not united, then contradictions will arise, and the countryside will not develop; if ethnic groups are not united, then the country will not develop or progress. He also said that in a family, each person has a responsibility; in a monastery, each monk has a responsibility; in a nation, no matter which ethnic group you belong to, each person has a responsibility. Therefore, we all must abide by national policies and laws. These words of Rinpoche spread widely in my hometown of Chindu County in Yushu Tibetan Autonomous Prefecture, Qinghai Province.
When the 10th Panchen Lama visited monasteries in Qinghai to chant scriptures, he once said that we had entered a new era of rapid scientific and cultural development. Buddhist disciples must not only master rich Buddhist knowledge, but also learn other scientific knowledge as well. The society was developing, and human civilization was continuing to advance. New requirements in line with the development of the era were put forward for Tibetan Buddhism. The 10th Panchen Lama has passed away for 30 years. However,the Rinpoche's words are the sincere and earnest teachings from a great master to the vast Buddhist disciples.
The author Reba is a Thorampa title earner of the High-level Tibetan Buddhism College of China and a monk from Saikang Monastery in Yushu, Qinghai.
Editor: Tommy Tan.