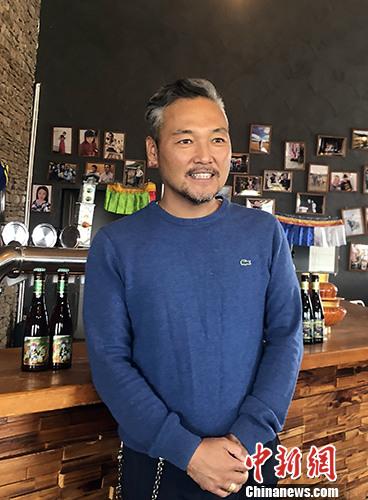 Photo shows Gyesu Songzan. [Photo/China News Service]
An ethnic Tibetan born and raised in Switzerland has come to Shangri-La to research and develop craft highland barley beer brewing.
Gyesu Songzan has lived for more than 10 years in Shangri-La City, Dechen Tibetan Autonomous Prefecture, southwest China's Yunnan Province.
"Pure melted snow water and organic highland barley are the best raw materials here. We are most concerned about the quality of the beer," the founder and chairman of Shangri-La Plateau Craft Brewery Co., Ltd. told reporters in English.
Gyesu Songzan's mother, Gyesu Danchen, was born in Tibet. She was adopted by a German couple when she was a child. In 1993, she returned to China to find her roots. Later, she established the "Gyesu Danchen Nursery School" in Tibet and in Shangri-La especially for orphans.
Gyesu Songzan, who owns a real estate company in Switzerland, said that he was moved by his mother's persistence, so he left behind his comfortable life and came to Shangri-La.
"My mother is a very powerful person in my mind. Without her, I wouldn't have come here, and I wouldn't have built this factory," Gyesu Songzan said.
He said that 80 percent of the employees in the brewery were young people who grew up in the nursery as a means to help them find work.
After establishing the brewery in 2009, Gyesu Songzan invited brewing experts from Switzerland and Germany to spend more than three years independently researching and developing highland barley beer.
The first kind of product was named "Songga", which means "charge forward" in Tibetan. This phrase describes the Tibetan people's determination to win a horseback-riding race. The brewery's beer bottle labels integrate Tibetan thangka painting.
The beer that has since been developed also has a distinctive Tibetan cultural characteristics, such as the "Black Yak" and "Fat Drolma" beer varieties.
He is convinced that beer brewed in an organic environment at an altitude of more than 3,000 meters using German beer brewing technology and standards will certainly be unique.
Indeed, the awards came one after another. "Black Yak" was awarded the silver "European Beer Star" in 2016. It was the first time a beer from China won the competition.
After that, it won one silver and one bronze award at the Brussels Beer Challenge in Belgium, and two silvers and three bronzes at the Chinese Beer Competition.
"The next target is the American Beer Festival, and I hope we will be able to get an award this year," Gyesu Songzan said with a smile.
In the production workshop, employee Drolma introduces the production process of crushing, fermentation, filtration, canning, sterilization, and packaging. She says that she was a child who grew up in the local nursery school. Here, she met Lobsang from the Gyesu Danchen Nursery School in Tibet, and the two got married. The work of the brewery keeps their lives stable.
Gyesu Songzan also found his own happiness in Shangri-La. He married a local Tibetan girl, and they have a son and a daughter both in elementary school.
"I can't speak or write Chinese, so this is the biggest difficulty I have encountered. I hope my children will be able to," he told reporters in broken Chinese.
The high-speed rail and expressway connecting Lijiang and Shangri-La are under construction, and Gyesu Songzan thinks these are good opportunities. "About 10 percent of the beer we produce today is sold in Europe, but the domestic market is bigger. I hope to sell our beer to all parts of China with more convenient transportation."
Editor: Tommy Tan.