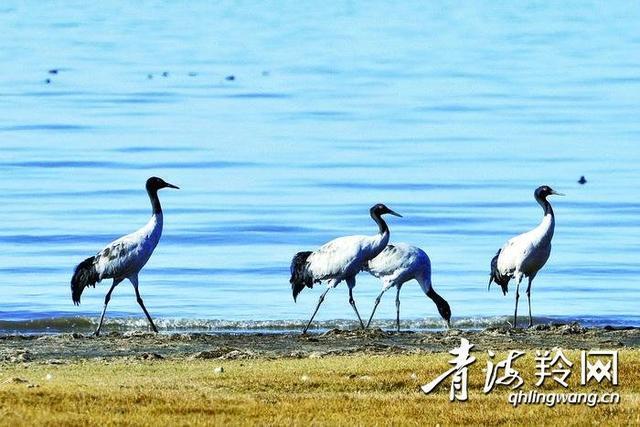 Photo shows the black-necked cranes by the Qinghai Lake. [Photo/qhlingwang.cn]
What do you think of when you think of Qinghai Lake? Is it the crystal blue waters, the golden rape flowers, or the meandering flocks of sheep by the shore? When the snow finishes falling and the lakes freeze over, Qinghai Lake in the wintertime is another spectacular sight.
When one departs from Xining in late fall, it takes less than three hours to arrive in Qinghai Lake. On the way, the road has none of the robust growth of summer, and offers more solemn sights, with bright snow on distant peaks.
The Qinghai Lake of this season is not as crowded as the summer, with only a few tourists by the lake. The shining snow, rolling hills, and all-over white color are treats for tourists who brave the cold. The quiet grandeur enlightens every visitor.
Every year, at the end of December, Qinghai Lake starts to freeze and doesn't thaw until the following April. If you were lucky, you'd see the lake freeze overnight. In one winter, the layer of ice in the giant Qinghai Lake could become as thick as 10 meters, with ice fractures, ice cracks, ice hills, and many incredible sights.
Around mid-January, one could try walking on top of the frozen lake. There're many lake-walking events at this time. When one walks on the icy lake, there's a blue sky overhead, and beautiful mountains stand not far away, and the horizon is divided by the lake.
Qinghai Lake is a salt-water lake, so the surface of the ice has some friction, making the walk not as slippery. Tourists should not walk without guidance on the lake. On the frozen lake, there're often cracks of varying lengths and widths, making the walk treacherous.
In the middle of Qinghai Lake is a narrow island, resembling a lotus leaf, or a heart-shaped pistil. This is Mt. Haixin. Surrounded by water, this area is blocked off from the rest of the world in the summer. In the winter, there're some believers who travel here.
There's another surprise in Qinghai Lake in the winter, and that is the whooper swan that fly here every year. From November to February, a large flock of whooper swans arrive every year to build nests, breed, and rest, giving the quiet winter season a special kind of allure.
On winter mornings, when the sun bursts forth, the skies are streaked with colors, reflecting the golden rippling waters below.
Groups of swans stand, swim, dance, or fly on the lake surface, creating a magnificent sight.
Qinghai Lake in the wintertime is an unknown treasure. It is both severe and grand; it is both lonely and romantic. It is a desolate yet vibrant world.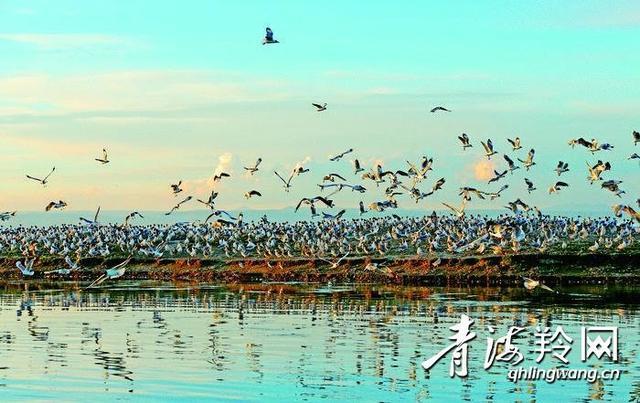 Photo shows the brown-headed gulls. [Photo/qhlingwang.cn]
Editor: Tommy Tan.