An investigation into Taiwan's deadly October train derailment announced its preliminary findings Monday, saying multiple factors and anomalies coincidentally happening at the same time caused the accident.
  A Puyuma express train with 366 passengers on board derailed on Oct. 21 in Yilan County, leaving 18 dead and more than 200 injured. It was Taiwan's worst train accident in more than three decades.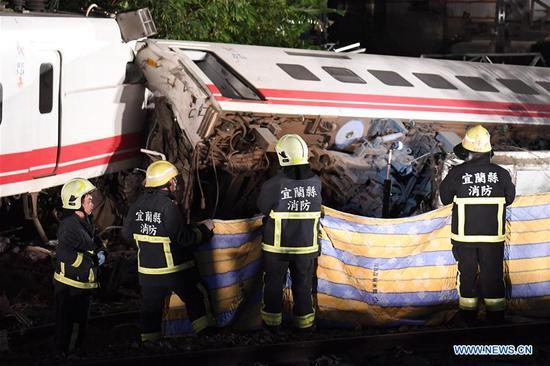 Photo taken on Oct. 21, 2018 shows the rescuing site of the train derailment accident in Yilan County, southeast China's Taiwan. [Photo: Xinhua]
  Officials told a press conference Monday that the train was going at 141 kph when it entered a curve near Xinma Station, where the speed limit is 75 kph, causing the derailment.
  The driver failed to operate the brake handle as he was speaking with dispatchers and technicians from Taipei Locomotive Depot trying to fix anomalies on the train. The train ran off tracks just about 20 seconds after contact ended, according to the investigation.
  Officials also said that before the accident, the train experienced power system anomalies due to a problem with its main air compressor. Those dealing with the problem failed to remove the anomalies and let the train proceed, officials said.
  In addition, the automatic train protection (ATP) system supposed to prevent the train from speeding was blocked, and the ATP remote monitoring was also offline.
  "If any of the above problems were handled effectively and immediately, the accident would not have happened," the investigation team said, adding that they would continue to look into each aspect of the preliminary findings and put together improvement proposals.