On November 1, the "Beautiful Qinghai: Development Achievements in Qinghai Ethnic Autonomous Regions since the Founding of New China" exhibition opened in Beijing, and the embroidery culture of Qinghai was exhibited.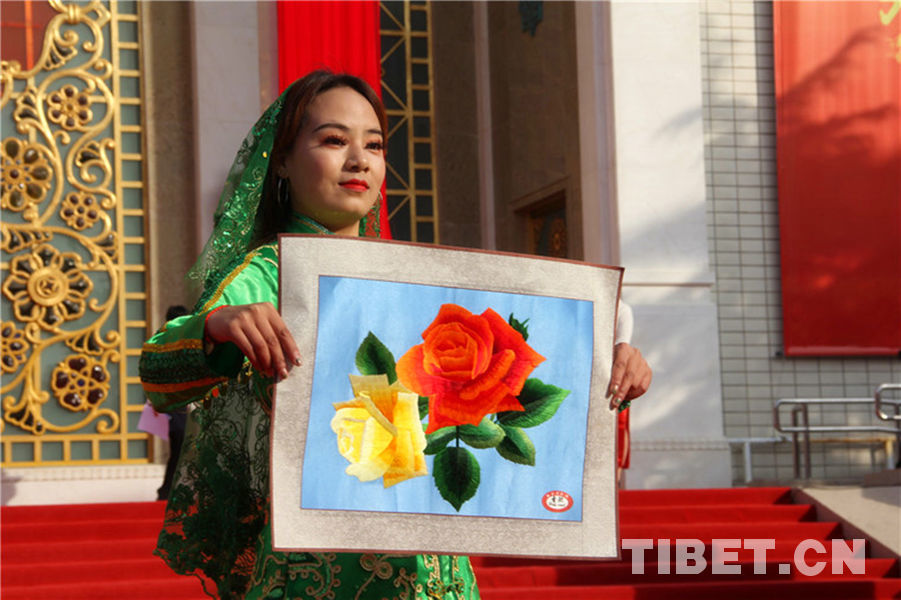 At the opening ceremony, a performer displays "Qinghai embroidery" work.
In the massive land of Qinghai, there exists side-by-side many kinds of traditional folk embroidery, such as ethnic Tu coiled embroidery, Huangzhong pile embroidery, Tibetan embroidery, ethnic Salar embroidery, and ethnic Mongolian embroidery. "Qinghai embroidery" emerged from the opening of the southern road of the Silk Road during the Qin and Han dynasties. It continues to develop today. It boasts a long history, unique techniques, simple style, and numerous kinds of needlework, and it is a folk art that is very close to the lives of the masses.
Embroidery works such as clutch bags, coasters, and other crafts.
The embroidery work "Beautiful Qinghai" were created in eight months by Chen Yuxiu, an inheritor of the intangible cultural heritage "Xining Embroidery" craft, and 40 seamstresses. The pieces use unique Qinghai folk embroidery techniques and are rich in local characteristics and ethnic charm.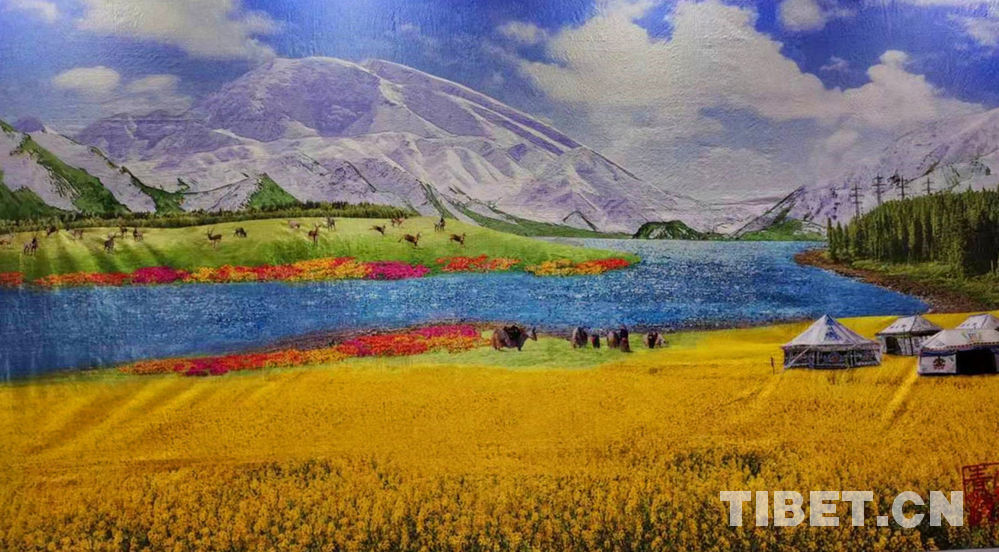 Embroidery work "Beautiful Qinghai".
Ethnic Tu embroidery was listed in the first group of national intangible cultural heritage items in 2006. At the exhibition, seamstresses demonstrated their sewing, their fingertips fluttering in and out of stiches, connecting the different colored threads to form patterns little by little.
A demonstration of ethnic Tu embroidery.
Coil embroidery is time-consuming and laborious, but it is durable. Nowadays, in addition to traditional Tu ethnicity dress sleeves and embroidered belts, they also used for making other products.
Coil embroidery ornaments.
The Han, Tibetan, Tu, Salar, Hui, and Mongolian ethnic groups that live in the Hehuang area of Qinghai Province like to use embroidery to decorate and beautify their lives. The "Hehuang embroidery", named for its regional distribution, is mainly flat embroidery, which is simple, straightforward, and stylish, and it has a wide range of uses and aesthetic value.
A seamstress puts a paper cutout on the dark cloth as the bottom and then uses the lines to embroider the pattern along the paper cutout.
A seamstress gives an embroidery demonstration.
A bamboo branch pattern on a "Qinghai embroidery" scarf.
In 2019, the term "Qinghai embroidery" was first written into the work report of the Qinghai Provincial Government and became a characteristic industry of the province.
A "Qinghai embroidery" shawl, handkerchief, and other products.
"Qinghai embroidery" has become a window through which to display Qinghai Province's ethnic unity and progress, environmentally-friendly (green) development, and ethnic culture.
"Qinghai embroidery" craft products.