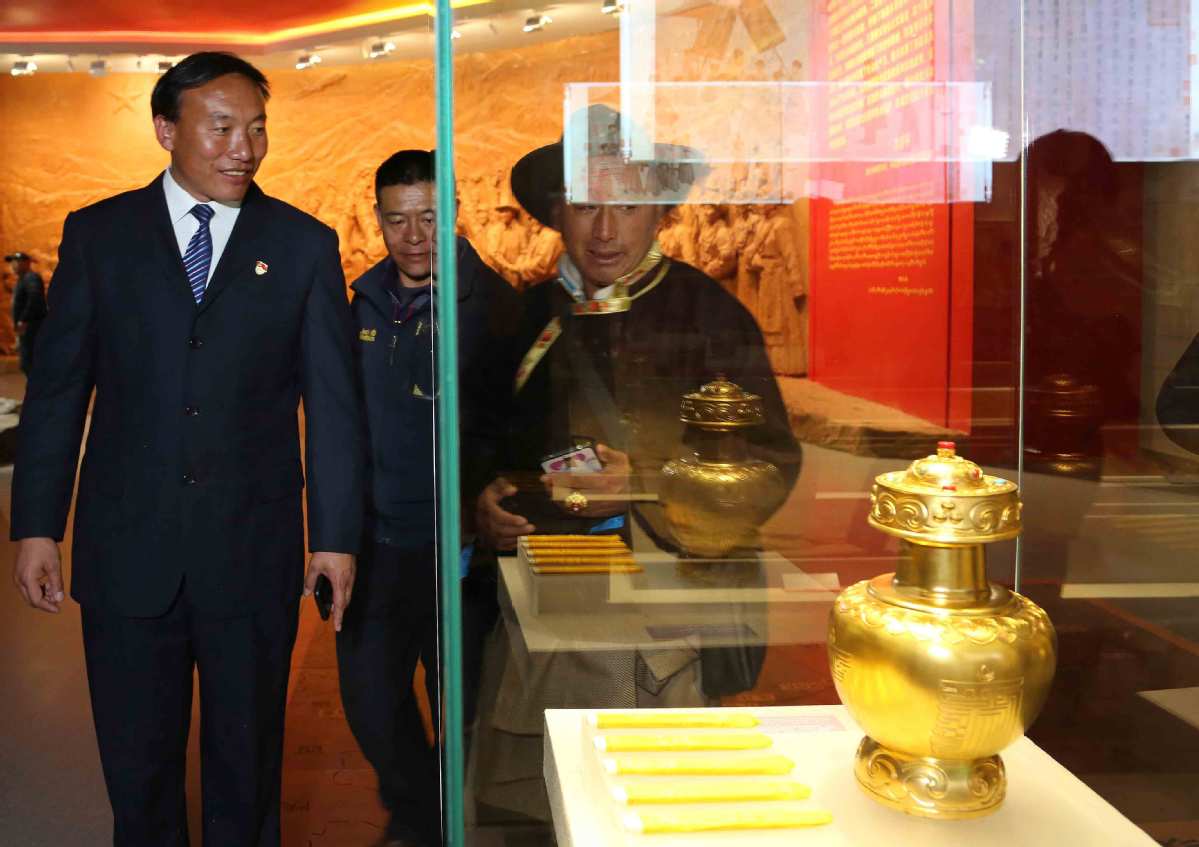 Karma Tsegyal (left), a village official from Tibet's Dengchen county, visits the Tibet Serfs Emancipation Memorial Hall with friends on Thursday. The hall opened to mark the 60th anniversary of Tibet's democratic reforms. [Photo/China Daily]
Riga, an official in a Tibetan village, was both sad and pleased after a tour of the newly opened Tibet Serfs Emancipation Memorial Hall on Thursday, which was opened to mark the 60th anniversary of the emancipation of the region's serfs.
March 28 is Serf 's Emancipation Day, which coincides with the democratic reform movement in the Tibet autonomous region.
Sixty years ago, about 1 million serfs were freed when the feudal serf system ended in the region, accounting for 95 percent of the region's population, according to data from the Tibet Academy of Social Sciences.
Riga, 52, a village official of Driru county, said he was sorry to see the brutality inflicted on Tibetan serfs before democratic reforms in 1959. The serfs suffered too much under the dark system at that time, he said.
"The serfs were disadvantaged. They couldn't meet their basic needs in life, including economic benefits and basic human rights," said Riga, adding that his heart was broken upon learning the dark history via photos and descriptions in the hall.
Despite his sadness, Riga said he was also pleased with the sea change that has taken place over the years, and he had much to share about his time working as a village official for more than three decades.
"Thanks to the central government's preferential policies, most of our villagers are no longer poor," he said.
Riga said in old times, ordinary people did not have the right to a basic education. But he noted that currently all people are able to receive a normal education, and the government pays tuition and an allowance for up to 15 years.
"Thanks to the government providing equal opportunities for education, four people in my family received college educations, and they have stable government jobs," he said.
"I have much more to share about the benefits from the government. And to repay my debt I will work harder and do a better job for the rest of my life."