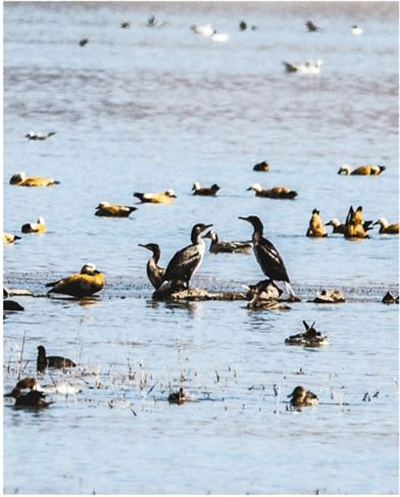 [Photo/People's Daily]
Cormorants, which are supposed to fly to the southeastern coast to winter in the beginning of October, were discovered at the end of November to have been remaining in the upper reaches of the Lhasa River, which is more than 3,700 meters above sea level, wintering alongside other bird species such as bar-headed geese and ruddy shelducks.
This is a new phenomenon discovered in Lhundruk County in the central part of southwest China's Tibet.
Cormorants are large, fish-eating birds that have been included to the Red List of Threatened Species by the International Union for Conservation of Nature. Cormorants breeding on the Qinghai-Tibet Plateau will fly away to the southeast coast of China and Hainan Province in the end of September and early October each year to spend winter.
In recent years, the Lhasa River Valley has grown warmer and moister during winter, and some "lazy" cormorant birds choose to remain on the plateau. Another reason for these birds wintering on the plateau is that local ecological environmental protection has been strengthened, so bird habitats such as the Kaze Reservoir Wetlands in Lhundruk County are not subject to harassment from humans.
Cormorants are distributed widely across China, and they have been included on the List of Nationally Protected Terrestrial Wildlife with Beneficial or Economic and Scientific Research Value. Most of the cormorants living in area south of the Yellow River are resident birds. Those north of the Yellow River, especially the ones who breed on the Qinghai-Tibet Plateau, generally move south in winter.
Editor: Tommy Tan.