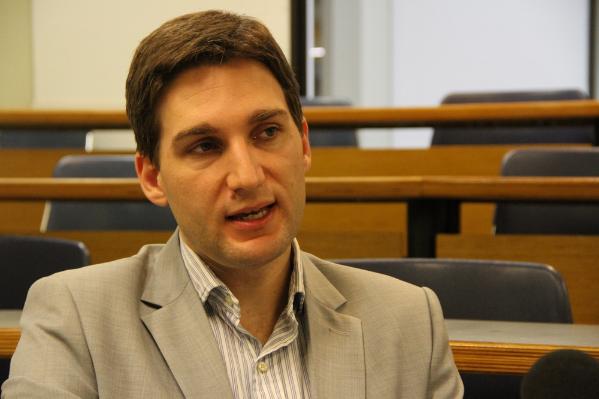 Patricio Giusto, the director of the Center of Political Analysis and Consultation in Argentina, during an interview with CRI. [Photo:China Plus]
  The 13th Group of 20 Summit will be held on Friday and Saturday in Buenos Aires in Argentina.
  Experts in the country are expecting the summit to play a positive role in promoting global governance.
  Against the backdrop of increasing uncertainty and intensifying instability worldwide, the world's traditional governance systems are facing mounting challenges.
  Patricio Giusto, director of the Center of Political Analysis and Consultation in Argentina, shared his expectations for the positive role that the upcoming summit will play.
  He hopes the summit will to help to resolve differences between the participants, and push global governance towards a more fair and just direction.
  (act1, Giusto, male, Spanish)
  "The G20 mechanism is not restricted to seeking solutions for global economic governance and promoting world economic growth. It has also expanded to areas such as employment, education, culture, and the environment. As the G20 plays a more and more prominent role on the international stage, it has gradually become a platform for consultations, formulating new international rules, and constructing the global governance system."
  Giusto expresses concern about rising unilateralism and protectionism, which poses a grave threat to sustainable development and inclusive growth in the world economy.
  But he voices optimistim about the role that China can play in solving some of the major challenges.
  (act2, Giusto, male, Spanish)
  "Against the backdrop of increasingly intense worldwide uncertainties, the entire world is expecting China, the world's second largest economy, to play a more prominent role in international affairs. At the 2016 G20 Hangzhou Summit, China's President Xi Jinping put forward China's plans and proposals for tackling global challenges, which won acclaim and approval from various sides. So we are all looking forward to China's leader putting forward new plans and proposals that can lead the trend of the times, and promote global governance at this years' G20 summit."
  This year marks the tenth anniversary of the formalization of the G20 Leaders' Summit mechanism.
  It is the first time a South American country has hosted the summit.