Lhamo Tso, a 25-year-old provincial People's Congress representative from Gansu Province, attended the "two meetings" in Gansu while wearing traditional clothes this year. " Last year, my proposal was to build a highway from Zhuoni County to Luqu County. The project has already started construction in the middle of last year, I'm so happy about it."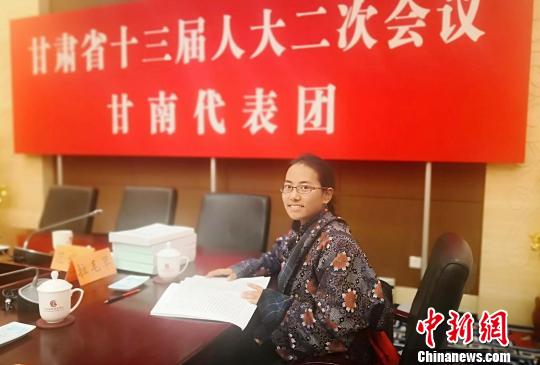 25-year-old Lhamo Tso at the second session of the 13th Provincial People's Congress of Gansu province.
During the "two meetings" of this year, she said that though people's lives had been greatly improved, there's still an urgent issue needed to be raised at the "two meetings." Namely, professional talents are urgently needed in the county and village medical clinics, and other grassroots-level medical agencies.
Lhamo Tso emphasized the importance of this issue since this affects the health of women living in remote pastoral areas. "I often see pregnant women in herding areas having to travel to county hospitals for any problems, which takes a long time. Sometimes they'd have motion sickness on the way, so some people even choose to stay home for fear of traveling, which could be very dangerous."