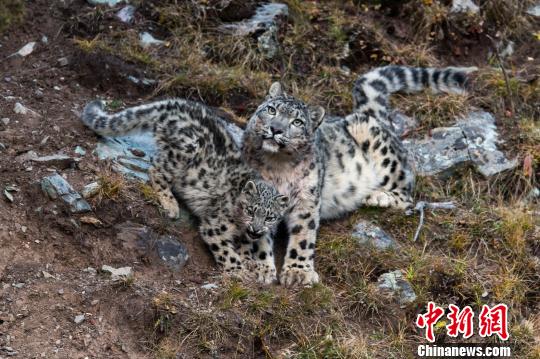 File Photo: Snowleopard. [Photo/China News Service]
"For research and protection of snow leopards, the biggest problem is the lack of background data. At present, we already have a prototype of background data after monitoring snow leopards in the Sanjiangyuan for more than 10 years, and local herdsmen can be called the main force for collecting those data," Zhao Xiang, director of the Shanshui Nature Conservation Center's Sanjiangyuan Program, said on October 30.
China has the largest distribution of snow leopards in the world with 60 percent of the world's snow leopard habitat. There are estimated to be over 1,000 snow leopards in Sanjiangyuan area, the source of the Yangtze River, the Yellow River and the Lancang River. According to the China Snow Leopard Survey and Protection Status of 2018 report released this month, research on snow leopards only covers 1.7 percent of their habitat area, far from the survey target of 20 percent of the world's snow leopard habitat. The largest survey gap is in the southern part of the Qinghai-Tibet Plateau, followed by the western Tianshan mountain region in northwest China's Xinjiang.
"Because most snow leopard habitats are in high altitude and remote areas, climate and transportation conditions are very poor, so the cost of conducting research there is high, and it is difficult to establish long-term monitoring systems," Zhao Xiang said. If they need to accumulate basic data on snow leopards and establish a long-term monitoring system, the best way is to train local herdsmen to do so.