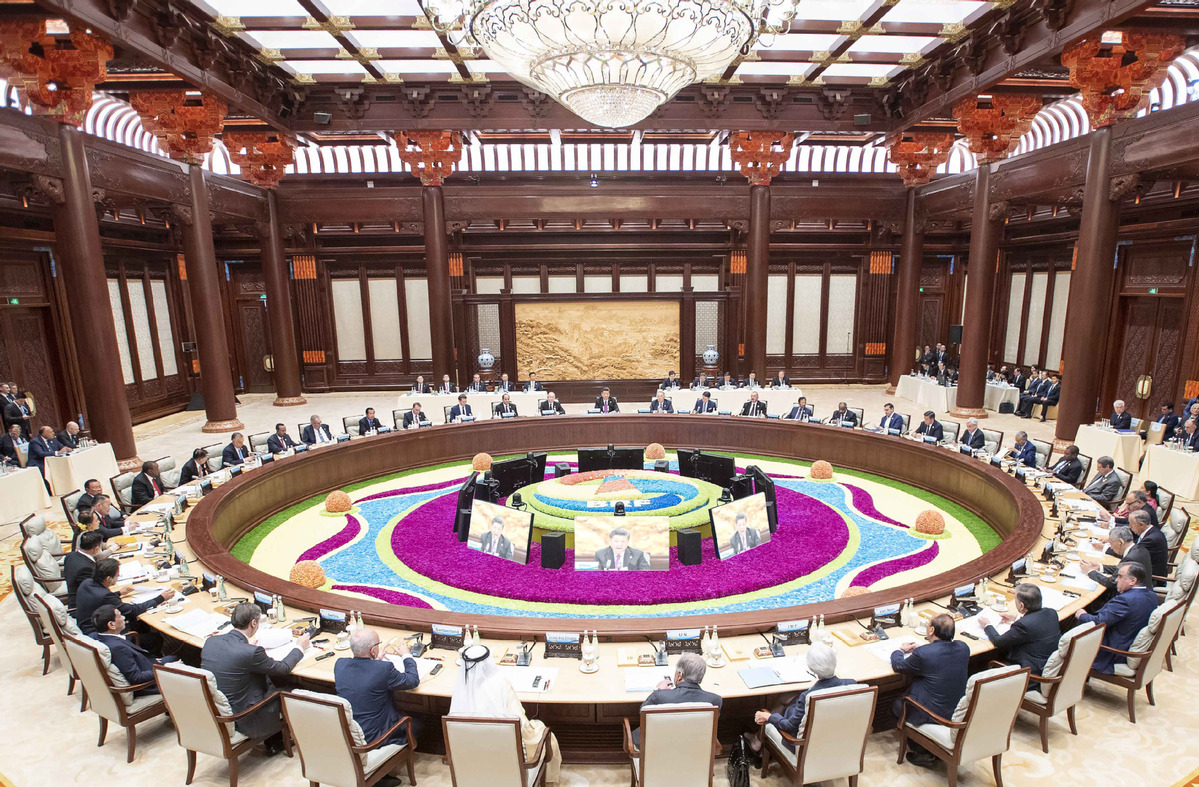 President Xi Jinping presides over the Leaders' Roundtable at the Second Belt and Road Forum for International Cooperation in Beijing, April 27, 2019. [Photo/Xinhua]
The international community has hailed President Xi Jinping's call on Friday to ease market access for foreign capital and increase imports so that opening-up reaches a higher level.
Xi said in his keynote speech at the opening ceremony of the Second Belt and Road Forum for International Cooperation in Beijing that the purpose of building the Belt and Road is to achieve win-win cooperation and common development.
China will increase its imports of goods and services and will further lower its tariff rates, Xi said.
Francis Chua, chairman emeritus of the Philippine Chamber of Commerce and Industry, noted Xi's emphasis on quality imports and state-of-the-art products.
"China will keep its commitments," said Chua, who was attending the forum as a member of the Philippine business delegation.
Chris Rowley, a visiting professor from Oxford University's Kellogg College in England, called opening to more foreign investment a very important development.
"Of course this will expose both inward investors and indigenous organizations to some stark differences in management and doing business between them, which in turn requires more globally effective leaders who are less ethnocentric and more culturally aware," he said.
Sikhumbuzo Zondi, a research assistant at the Institute for Global Dialogue associated with the University of South Africa, said another important aspect of Xi's opening address was the desire to invest more resources in scientific innovation and technology.
The aim is to develop technologies and business models that will foster new growth and development. To do this, China is committed to spearheading the Belt and Road Science, Technology and Innovation Cooperation Action Plan to advance information and communications technology infrastructure development with the aim of improving internet connectivity and security, Zondi said.
Oh Ei Sun, a senior fellow at the Singapore Institute of International Affairs, noted Xi's emphasis on high-quality development, free trade and people-to-people bonds, "all of which are sorely needed around the world".
"The shift toward high-quality development is a natural extension of what China has been doing for the past few years. Now that the BRI is five years old, it's about time to upgrade quality joint development," he said.
"China is trying to address the concerns that have been raised since the last Belt and Road Forum two years ago. One of these concerns is the need for infrastructure projects to be more responsive to the local circumstances of BRI member countries."
Duncan Freeman, a research fellow at the EU-China Research Centre at the College of Europe in Bruges, Belgium, said infrastructure is important for economic growth, so building infrastructure and building connectivity and efficient infrastructure are important.
Jon Taylor, a professor of political science at the University of St. Thomas in Houston, Texas, in the United States, said Xi wants to convey a specific message: that China sees the BRI as a method by which it can make a substantial and permanent contribution to lasting peace, common security and global prosperity.
"While some Westerners may scoff at the impact they think the BRI may have on these issues, Xi genuinely sees the BRI as a global development project and will continue to wholeheartedly put China's money, resources and energies into this project," he said.