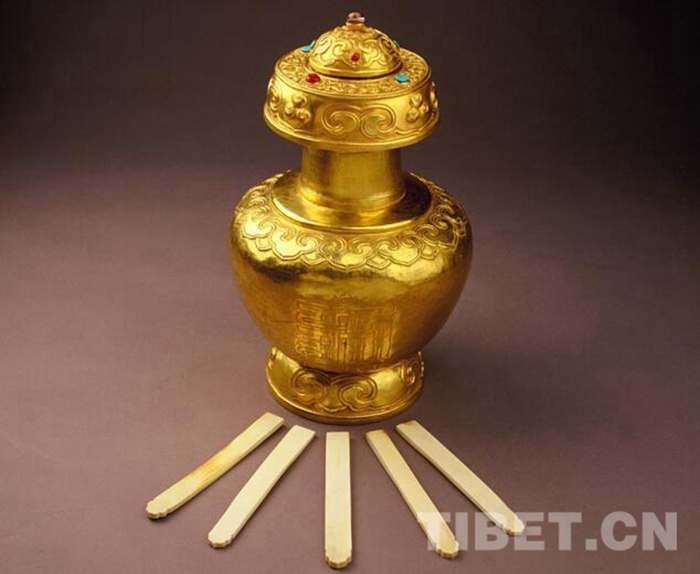 Golden urn and name lots
The system of drawing lots from a golden urn to choose the reincarnation of a Living Buddha is an important measure taken by Emperor Qianlong(the 6th emperor of the Qing Dynasty,1711-1799) to prevent Tibetan and Mongolian upper-class nobles from using the reincarnation of Living Buddhas to seize religious power and to prevent great lamas from building up alliances with secular forces of Mongolia and Tibet.
The system of reincarnation of Living Buddhas is a unique Tibetan Buddhist tradition. During the 11th and 12th centuries, Tibetan Buddhism spread well in Tibet and there were many sects developed and many temples built. However, in order to survive and develop, each sect joined with local power groups, and the traditional "father-son inheritance" and "master-apprentice inheritance" became increasingly difficult to meet the needs.
Then, the system of reincarnation of Living Buddhas was born, which was first initiated by the Karma Kagyu sect, but was systemized by the Gelug sect (Known as the Yellow Sect) and adopted in all Mongolian and Tibetan areas.
In 1546, Sonam Gyatso (the third Dalai Lama) was identified as the reincarnation of Gendun Gyatso. This is the Gelug sect's adoption of the reincarnation system of Living Buddhas for the first time clearly recorded. Later, the Dalai Lama and Panchen Erdeni were crowned and recognized by the imperial court. Following the formation of the reincarnation system of the Dalai Lama and the Panchen Lama, many small- and middle-range living Buddhas in the Gelug sect also adopted systems of reincarnation. Gradually, after the reincarnation system was adopted universally, a system of searching for child successors of Living Buddhas and recognizing them as reincarnations gradually formed.