O'Reilly out at Fox News Channel, still denies allegations
2017-04-20 09:40:53 | From:http://www.chinadaily.com.cn/world/2017-04/20/content_29007180.htm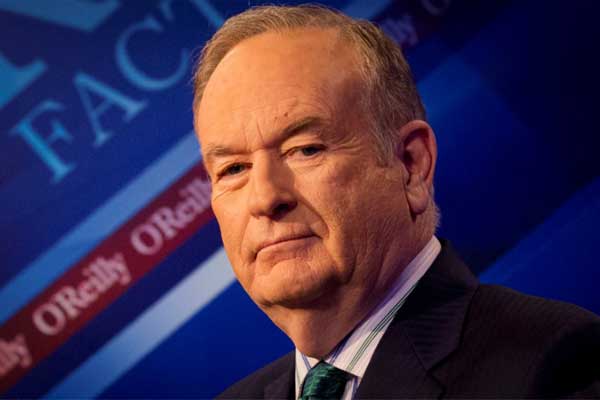 Fox News Channel host Bill O'Reilly on the set of his show "The O'Reilly Factor". [Photo/Agencies]
NEW YORK — Fox News Channel's parent company fired Bill O'Reilly on Wednesday following an investigation into harassment allegations, bringing a stunning end to cable news' most popular program and one that came to define the bravado of his network over 20 years.
The downfall of Fox's most popular — and most lucrative — personality began with an April 2 report in The New York Times that five women had been paid a total of $13 million to keep quiet about disturbing encounters with O'Reilly, who continued to deny any wrongdoing in a statement hours after he was fired. Dozens of his show's advertisers fled within days, even though O'Reilly's viewership increased.
O'Reilly's exit came nine months after his former boss, Fox News CEO Roger Ailes, was ousted following allegations of sexual harassment.
Following the Times story, 21st Century Fox said it had asked the same law firm that investigated Ailes to look into O'Reilly's behavior. 21st Century Fox leaders Rupert Murdoch and his sons Lachlan and James said in a memo to Fox staff that their decision to ax O'Reilly came following an "extensive review" into the charges.
"I understand how difficult this has been for many of you," Rupert Murdoch said in a memo to Fox staff.
O'Reilly, denied a chance to say goodbye to his Fox viewers, did so via a statement.
"It is tremendously disheartening that we part ways due to completely unfounded claims," he said. "But that is the unfortunate reality that many of us in the public eye must live with today. I will always look back on my time at Fox with great pride in the unprecedented success we achieved and with my deepest gratitude to all my dedicated viewers."O'Reilly's dismissal doesn't signal any change of direction for the network: Fox said conservative pundit Tucker Carlson would move into O'Reilly's time slot — the second time in three months he's replaced an exiting prime-time personality. Carlson, a veteran who has hosted shows on CNN, MSNBC and PBS, had taken over for Megyn Kelly in January when she announced she was moving to NBC News.
Previous Page12Next Page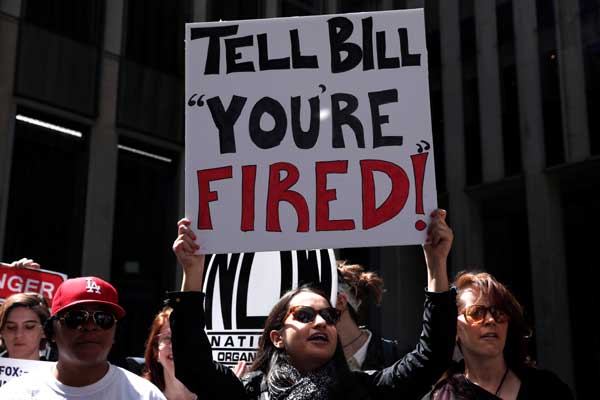 Demonstrators protest calling for the firing of Fox News Channel TV anchor Bill O'Reilly outside the News Corporation headquarters in New York City, New York, US, April 18, 2017. [Photo/Agencies]
O'Reilly, 67, had ruled the "no spin zone" on television with a quick smile and an even quicker temper. He pushed a populist, conservative-leaning point of view born from growing up on Long Island, and was quick to shout down those who disagreed with him. Fans loved his willingness to talk back to power or point out hypocrisy among liberal politicians or media members.
Some of O'Reilly's critics were happy with the news.
Author Stephen King tweeted: "New book by Fox News: Killing Bill O'Reilly." It referred to O'Reilly's series of best-selling books on the deaths of major historical figures.
"Mission accomplished," said Keith Olbermann, who frequently tweaked O'Reilly on an MSNBC show that competed in the same time slot for several years. Olbermann said that when he was working at Fox Sports in 1999, he helped a friend get a job at Fox News. She quit the job — and the business — due to her treatment by O'Reilly, he said.
"This has been going on for decades and I hope his having to go out in shame and disgrace makes things just a little bit better for her and all his victims right now," he said. "Certainly they make things better for America."But many of O'Reilly's fans took to social media to express their unhappiness at losing their hero. Several suggested that Fox had essentially caved to a left wing campaign. It didn't help that the controversy was set in motion by the Times, a publication hated in conservative circles.
O'Reilly's lawyers said he was the victim of an orchestrated campaign by liberal organizations like Media Matters for America, which contacted his advertisers to pressure them to leave the show. Conservative personality Glenn Beck — who once lost a job at Fox because a similar campaign choked his program of paying advertisers — came to O'Reilly's defense on his radio show.
"You need to write and call Fox News Channel today and tell them, you can lose your advertisers or you can lose your viewers," Beck said on his radio show hours before the firing. "But you have to put some spine back into the Murdoch family and the Fox News Channel board because you are about to lose Bill O'Reilly."He was too late.
AP
Previous Page12Next Page