Promotional vedios of lake cycling race shown in Times Square
2016-06-25 23:57:14 | From:China Tibet Online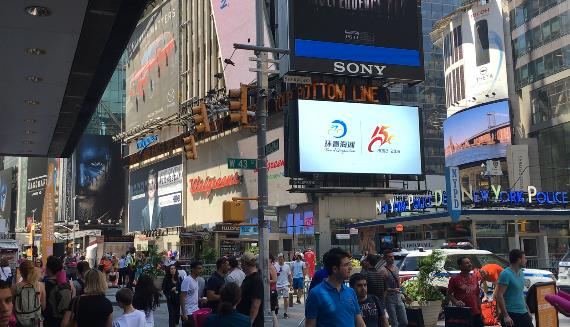 On June 20 local time in the USA, the promotional vedios regarding the 15th Qinghai Lake Cycling Race was shown in the Times Square of New York, Xinhua reported.
There were two vedios displayed this time, each of which lasted for fifteen seconds. They were being played in loop in order to show the race charm to the entire world.
In September 2015, the Embassy of the People's Republic of China in the United States of America released the public-interest advertisement themed as the "development of bicycles in China" in 70 public-renting bike stations in Washington D.C.
The lake cycling race was fortunately chosen, therein becoming the representative piece revealing the development of the biking sport in China, which shows the fantastic feelings of cycling on the spectacular plateau to the American people, achieving a very good reaction overall.
As the benchmark of the cycling race that is publicly known in China and abroad, the race not only leads to the development of China's internationalized cycling competition industry it also puts driving force into the development of China's biking sport. Other than this, it also popularizes the concepts of "green, humanity and harmony" as well as a healthy lifestyle that protects the environment.
After 14 years of development, the Qinghai Lake Circling Race is not only a professionally internationalized biking competition, it has also developed into a famous brand, a platform as well as a postcard bringing Qinghai to the world.
The race this year is about to kick off, with preparations from all aspects being carried out smoothly.

Related News
;  

The 4th Basomtso cycling race was concluded on May 2, according to Xinhua report.

 

The Xuegula Mountain Cycling Challenge, world's highest of its kind, kicked off recently in Yangpachen, Lhasa of Tibet Autonomous Region, Xinhua reported.

 

An international road cycling race which traverses Qinghai and Gansu provinces and Ningxia Autonomous Region will connect a series of beautiful sceneries in west China.