Four-year-old hikes 15km a day
2016-06-04 09:29:37 | From:China Daily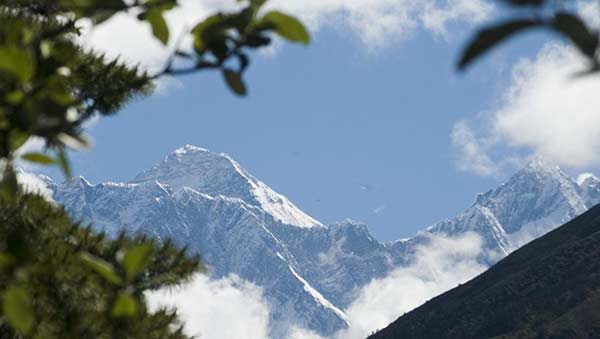 Wenwen has experienced walking on snow mountains, along seasides, and in jungles in many provinces and regions such as Yunnan, Guizhou, Sichuan, Tibet and Guangdong. [Photo/Xinhua]
Two backpacker parents want their four-year-old daughter to be tough, so they're already taking her on hikes – for 15km a day.
They've been hiking with their daughter, whose alias is Wenwen, across mountainous and border areas since she was just one year and three months old, the Xinhua News Agency reported on June 2.
Wenwen's parents Pan Tufeng and Yuan Duan say they walk for 15 to 30km a day, for about eight months a year.
During the hikes, Wenwen's meals consist of edible wild herbs and she sleeps in a tent, just like her parents do.
Although she is only four, Wenwen has experienced walking on snow mountains, along seasides, and in jungles in many provinces and regions such as Yunnan, Guizhou, Sichuan, Tibet and Guangdong.
Wenwen's parents say they plan to keep hiking with their daughter until she starts primary school.
"I wish my child can be individual and tough, and she can adjust herself from setbacks after those hiking practice," Wenwen's father, Pan Tufeng, said.
"I'm quite strict (on) her. When we were hiking, she cried since blisters on the feet but she has to keep walking," Pan said.
"I care for her but I want to train her anti-pressure ability. There will be bigger challenges in her future." When Wenwen was a one-year-old, she couldn't handle the long walks and sometimes needed to rest in her parents' arms. Now, she can catch up to them on her own.
Wenwen's grandma said she was initially against the practice, but that she could now see Wenwen was physically stronger and well-adapted.
Wenwen's story has attracted widespread attention from many internet users. Some think it's an innovative and better way to educate children, by teaching them the world, vividly.
A woman named Fang agrees with the practice, to some extent. She fears her city-born child lacks gratitude and persistence.
"My child even complains it's exhausted to take a subway when I can't drive," Fang said.
"I'm thinking to sign my child up to a camp to experience a tough life in distressed area."
But others say excess physical training can hurt children, and for a four-year-old in this case, "she was too young to remember all this after grew up".
Related News
;  

On April 6th, the 2016 hiking season on Mt. Qomolangma has officially begun.

 

According to the hiking department in Tibet, there will be a hiking activity held on Mt. Qomolangma during April.

 

Due to the warmer weather, less snow and more tourists, Metok Tourism Department in Tibet has opened a hiking path from Pai Township to Drepung Township.