Jiuzhaigou to partially reopen for 1st time since earthquake
2018-03-05 10:00:38 | From:chinadaily.com.cn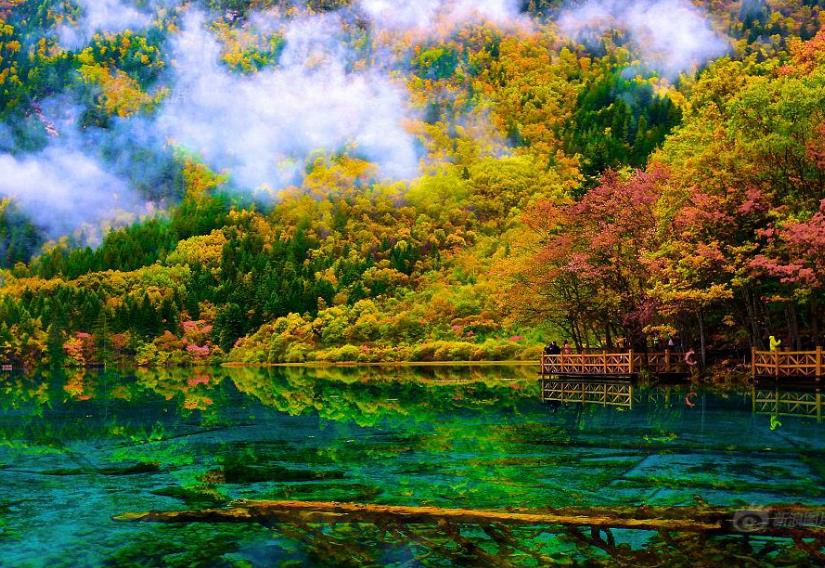 Scenery of Jiuzhaigou in Southwest China's Sichuan province pictured after the earthquake in August 2017. [Photo/chinadaily.com.cn]
Jiuzhaigou, a scenic area in Sichuan province on the UNESCO World Natural Heritage list, will partially reopen March 8 and begin welcoming visitors for the first time since the devastating earthquake in August.
Admission fees will be preferential in March, charging each visitor only 40 yuan ($6.3). For the rest of 2018, the admission fee for each visitor will be 110 yuan regardless of the season, according to the administrative bureau of Jiuzhaigou.
Before the earthquake, Jiuzhaigou's admission fee was 220 yuan during the peak season from April 1 to Nov 15, and 80 yuan during the offseason from Nov 16 to March 31.
Throughout 2018, only 2,000 visitors will be admitted to Jiuzhaigou each day as it is being rebuilt and visitors can only view some 10 sites there, said a source with the bureau.
Located in the Aba Tibetan and Qiang autonomous prefecture in Sichuan, Jiuzhaigou means "nine-village valley".
It is named for the nine Tibetan settlements on the eastern edge of the Qinghai-Tibet Plateau. Before the earthquake, visitors were drawn by its 108 transparent Alpine lakes and Tibetan and Qiang culture.
Twenty-five people perished Aug 8 in the magnitude 7.0 earthquake, and 493 were injured. Jiuzhaigou's scenic wonders also fell victim to the disaster.
Two days after the earthquake, Nuorilang Falls collapsed. Standing 24.5 meters tall, it was China's widest waterfall at 270 meters in length and had been chosen by netizens as one of China's most spectacular sights.
Related News
;  

The Jiuzhai Valley has gradually recovered its beauty from the earthquake that struck the area half a year ago when the area's attractions and scenery were badly damaged.

 

The UNESCO World Heritage Site Jiuzhai Valley is expected to reopen gradually before May after a magnitude 7 earthquake struck the popular tourist destination last August, according to a political advisor.

 

UNESCO World Heritage Site Jiuzhai Valley will reopen gradually after a 7.0-magnitude earthquake struck the popular tourist destination last August, according to a local official.