Thangka adorns hillside during Shoton

A painting of the Buddha, or a thangka, that is 37-by-40 meters, is placed on display at Drepung Monastery in Lhasa, the Tibet autonomous region, on Monday. [Photo/China Daily]
Celebrations of the annual Shoton Festival began in Lhasa, the Tibet autonomous region, on Monday.
The seven-day event got underway at Drepung Monastery, the largest monastery of Tibetan Buddhism's Gelug Sect, where a large thangka painting of the Buddha was put on display.
The festival has three main parts: the Great Buddha Display, Tibetan Opera Show and Horsemanship and Yak Race Show.
"I was excited when I was asked to perform Tibetan Opera at the gala. This is the first time I have come to Lhasa to perform," said Losang, 30, from Shannan.
"Farming is my everyday job, and I only perform opera during galas. I am thrilled that the festival provides an opportunity for me to mingle with other Tibetan Opera performers," he added.
Champa Tsering, 52, of Lhasa, said his family celebrates Shoton Festival every year.
"My family and I went to the thangka exhibition at Drepung Monastery at about 6 am today and watched Tibetan Opera at around 10 am. We won't go home until the end of this evening's celebrations," he said.
In addition to exhibitions, Tibetan Opera performances and demonstrations of Tibetan equestrianism, the weeklong extravaganza also includes hiking, yogurt-eating and beer-drinking contests and a Tibetan-style fashion show.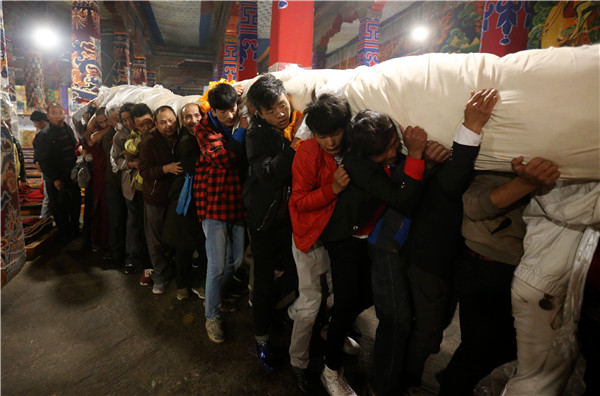 In the morning, monks and believers carry the rolled-up thangka from the monastery on the opening day of Shoton Festival, a traditional annual gala in Lhasa, the Tibet autonomous region. [Photo/China Daily]
Shoton Festival, also known as the Yogurt Banquet Festival, has been held since the 11th century. It was originally a religious occasion when locals would offer yogurt to monks who had finished meditation retreats.
"Sound development of cultural affairs is one of the strengths of Tibet, and remarkable progress has been made in this since late 2012. The central government is investing 1.5 billion yuan ($23 million) in the region's cultural sector from 2015 to 2020, five times the investment of the previous five years. In the same period, departments of the central and regional governments and other organizations are contributing more than 2 billion yuan to the regions' cultural development," said Zhou Hongyang, deputy head of the regional Cultural Affairs Bureau.
There are more than 140 professional Tibetan Opera groups and 2,446 amateur groups across the region, according to the bureau.
In the first half of this year, 8.6 million tourists have visited Tibet, a 25.3 year-on-year increase, generating about 9.3 billion yuan in revenue.

;  

The ancient city of Lhasa will celebrate Shoton Festival from August 21 to 27.

 

The event began amid a drizzle at Drepung Monastery, the largest monastery of Tibetan Buddhism's Gelug Sect, where a large thangka painting of the Buddha was on display.

 

A yogurt contest was held in Nyangra Township of Chengguan District in Lhasa, capital of southwest China's Tibet Autonomous Region.