French writer presents real Tibet in new book
2017-03-31 09:38:49 | From:China Tibet Online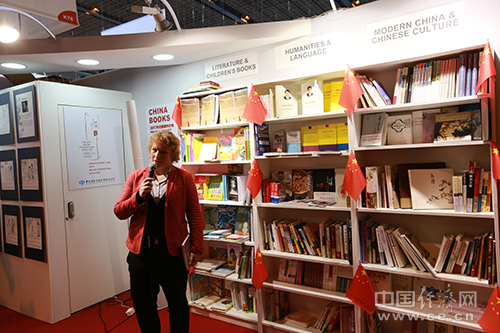 Sonia Bressler is briefly introducing her new book at the launch ceremony. [Photo/www.ce.cn]
The Chinese government has made great efforts in promoting social development and cultural protection of Tibet, and has managed to help Tibetan people live a better life, says a French writer named Sonia Bressler at Saturday's launch ceremony of her new book Discovering Tibet, which is her third book on Tibet followed by Crossing Tibet and Journey to the Heart of Tibet and is published by the Oriental Publishing House of Paris.
Bressler has visited Tibet three times since 2007. Initially, it was all down to her childhood longing for the Himalayas, but after visiting Tibet for the first time, she developed a deep affection for this piece of land. Afterwards, she returned to Tibet to immerse herself in the lives of local people and give her account of the real, complete Tibet to Western readers.
In Discovering Tibet, Bressler shares her understanding on Tibetan culture and history, as well as her interviews with Tibetan entrepreneurs, train conductors, Tibetan doctors, Thangka artists, monks and other people.
Tibet's development over the past ten years has profoundly impressed Bressler. "The Chinese government has invested heavily in promoting local development, especially in local education where students receive bilingual education in school. Now the young Tibetans have more ideas about their future and no longer want to be a Lama or a farmer only," she said. "Developing education is of great significance as it not only represents a respect for culture, but is also helpful for foreign exchanges."
When visiting local people, Bressler said she was shocked by her exchange with an elder man at a nursing home. In old Tibet, most elderly people had to struggle for survival, let alone get medical care, but now the elderly can go to a nursing home in their twilight years.
"In the nursing home I have free board and lodging. There are all necessities I need in my room. It's much better than my previous residence. Without the nursing home I may not have lived to today!" The old man told her.
This interview gave Bressler a clear picture of the importance of social development in Tibet, where people's living standards are improved greatly.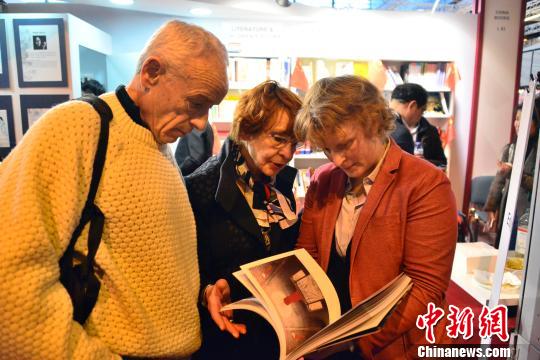 Sonia Bressler is talking with her audiences. [Photo/Chinanews.com]
In the book, Bressler also introduces the Chinese Tibetology Research Center, Beijing Tibetan Hospital and other organizations in Beijing. "Without support from the Chinese government, Tibetan culture might not exist today," she said, "The government has adopted a series of measures to protect Tibetan culture, such as the restoration and maintenance of Tibetan cultural relics.
As a doctor in philosophy and cognitive theory, Bressler believes that only by immersing in the people and through their lives and their perspective can one understand the real Tibet. She said that Tibet has always attracted attention from people all over the world, but Western society has long been biased against Tibet. She encourages people to personally visit Tibet, "communicate with the locals and witness their modern lives as well as the traditional culture in person."
Bressler's writings have opened a window for French readers to gain an understanding of the real Tibet. A reader called Andre Kokonier said that Bressler is of full of curiosity, open-minded, and has the courage to question bias and people's rigid way of thinking. And this book is a result of her questioning and thinking, helping readers understand the real Tibet.
"There is still a lot of work to do to make Westerners understand the real Tibet", Bressler said. She expects more positive Tibet stories go to Western readers' sight and hopes that Westerners can listen to the voices of Tibetan people and gain a deeper understanding of Tibet from different cultural angles.
Related News
;  

"My goal is to gather as much information about Tibet as possible, " Markus Rudolf said.

 

Three senior media members from the Hong Kong and Taiwan said on July 6th that it is necessary to visit Tibet for oneself to know the real Tibet, and not to rely on rumors.

 

On the morning of May 26th, the delegation of China Tibetology Research Center paid a visit to the library of the Kun Shan University of Technology in Taiwan and donated books on Tibetology to the library.