Lhasa rolls out 128 new energy buses
2018-03-14 10:19:13 | From:chinadaily.com.cn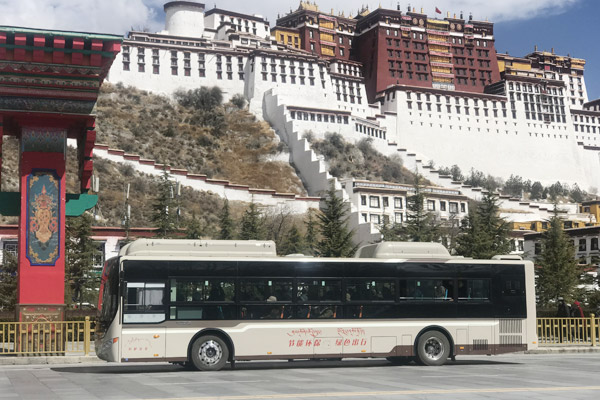 A new energy bus runs in front of Potala Palace in Lhasa, capital city of Southwest China's Tibet autonomous region, March 12, 2018. [Photo/chinadaily.com.cn]
Lhasa, the capital city of Tibet autonomous region, has put into use 128 gas-electric hybrid buses since the beginning of this year, increasing the total number of new energy buses to 312 in an effort to develop a clean energy transportation system, Xinhua News Agency reported.
New energy buses not only help reduce the difficulty of transportation, but also help protect the blue sky and clear water of Lhasa, the city's public transportation operator was quoted as saying.
Lhasa has been stepping up its efforts in providing green public transportation since 2015. Apart from the buses, Lhasa government also collaborated with Ofo since last May to provide 3,600 sharing bikes in the urban area. Also, 192 gas-electric hybrid taxicabs marked with the logo of "new energy" came into service in 2017.
"In 2018, Lhasa will invest more in new energy buses. By the end of this year, new energy buses are projected to take up 80 percent of all buses," said Cao Zhiming, chairman of board of Lhasa Communications Industry Group Co Ltd.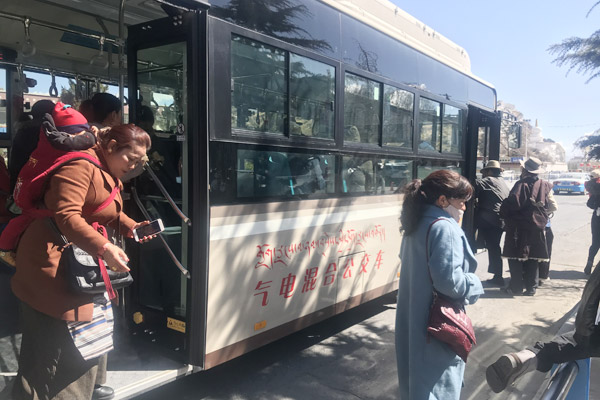 Passengers depart a new energy bus in Lhasa, capital city of Southwest China's Tibet autonomous region, March 12, 2018. [Photo/chinadaily.com.cn]
Related News
;  

Four more books on the Epic of King Gesar have been published, as part of efforts to preserve the 1,000-year-old epic, according to researchers in Tibet Autonomous Region.

 

64-year-old Tashi never thought that the Jiaxie dance he has been practicing for decades now would be a way to help local people escape out of poverty.

 

Southwest China's Tibet Autonomous Region has invested heavily in protecting its environment over the past five years, the regional government said Thursday.