Photo on Potala Palace snowscape becomes a hit
2018-02-28 11:14:05 | From:China Tibet Online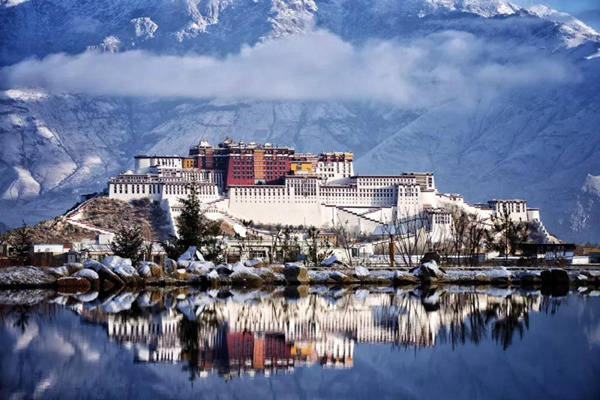 Photo on the Potala Palace snowscape taken by Tenzin Shidan in Lhasa, capital city of southwest China's Tibet, on Feb. 23.
Photos about snowscapes of Lhasa, capital city of southwest China's Tibet, became a hit on mobile social network as a heavy snow fell during the New Year holiday and endowed it with a pure beauty no one could resist.
Among these, one photo on the Potala Palace taken by a press photographer for the region's daily newspaper is especially impressive.
The photographer is called Tenzin Shidan who has fallen in love with photography ever since middle school when his father gave him a Polaroid camera. Now that photography is his job, he remains passionate about it.
Since photography was invented in 1839, it has had 179 years of history during which countless classic moments were created and the meaning of photography has been kept talking about by people.
For Tenzin, however, photography brings him pleasure and that is enough.
In his leisure time, Tenzin is also the founder and a senior member of Garuda, the first motorcycle club in Tibet.
He enjoys the sense of freedom on the motorcycle when racing in nature and experiencing the beauty around, which he thinks no other vehicle can provide.
Every time Tenzin puts on his motorcycle jacket and sunglasses, and hits the road on his motorcycle, he never forgets his camera.
"I want to always create exciting and impulsive experiences in life," he said.
Editor: Tommy Tan.

Related News
;  

Photo shows the winter scenery of the Namtso Lake known as a holy lake in Southwest China's Tibet Autonomous Region.

 

Currently, the region has 74 county-level folk art troupes, compared with 51 in 2012, the region's cultural authorities said Monday.

 

Photo taken on Feb. 23, 2018 shows the snow scenery in Lhasa, capital of southwest China's Tibet Autonomous Region.