An Attentive and Skillful Eye Watching over the Plateau(I)
2018-01-12 10:25:15 | From:China Tibet Online
Editor's note: The Sichuan-Tibet Plateau, a beautiful region that reaches toward the heavens, is a place showered with blue skies, covered in white clouds, and dotted with snow-covered mountains, but recently, something truly remarkable has been materializing among the households that call this place home. A groundbreaking historic change has been reshaping the land and its people. From today on, we will publish a series of stories to tell you those changes.
It is October 13th, 2016, and the first baby is born via C-section at the Maternal and Child Healthcare and Family Planning Center with a bewildered wail, and everyone in the room is bouncing with joy. The baby's mother is a 38-year-old woman named Sera, who is immensely relieved with the successful delivery. "This is my third child," she says. "For the first two, I invited lamas to pray for me, and then I gave birth at home. Where I'm from, women would depend on fate. If luck was with them, they would have a smooth delivery, but it was also very possible for either, or both, baby and mother to die at home. Some traditional women deliver their children in stables with terrible sanitation. This would often result in the death of both mother and child due to bacterial infections. I felt immensely comfortable here in this hospital, though, and I recently also decided to go through with tube tying. I don't want any more children right now and want to just take care of the ones I have already!"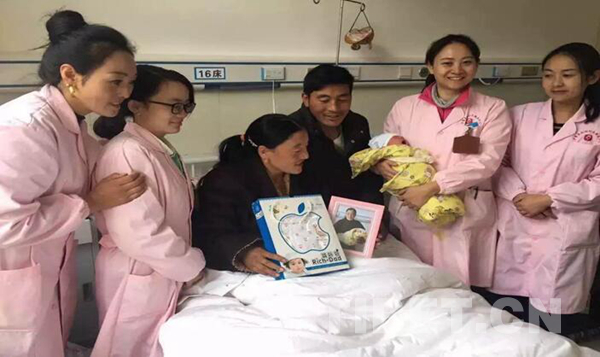 Photo shows the first baby that is born via C-section at the Maternal and Child Healthcare and Family Planning Center of Luhuo County.
Sera's impression is also shared by Tashi, who really broke the tranquility of Luhuo County People's Hospital when he arrived in utter pain and desperation one evening. Jiang Wen, the nurse on duty, listened to what he was saying and guessed that he was suffering from a perianal abscess, especially since he was not able to stand after sitting in a chair. No medicine would be able to solve the issue. Tashi needed surgery then and there, but there was a problem: neither he nor anyone in his family had the financial means to pay for the operation. He asked for something to be prescribed for him, but "they decided to give me the operation anyway after a group discussion. When the operation was said and done, my entire family couldn't stop thanking them with their thumbs in the air chanting, 'Khadro! Khadro!' Actually, I'd like to thank them, too!" The surgery, as well as his stay, ended up being free of charge, and half a month later, he was fully recovered and ready to leave. Before he took off, though, he presented a khada (traditional white scarf) to the staff at the hospital and gave butter tea to both doctors and nurses.
Sera and Tashi's stories are not unique in Luhuo's Tibetan-inhabited areas. Today, many civilians bring true benefits to the residents of this county as a result of the support projects launched by Chengdu's Jinjiang District, and happiness and gratitude are now able to spread much deeper into the hearts of the people.
The Chinese version of this story is written by Dai Hongyan and translated into English by Huang Wenjuan. And the story is sourced from the United Front Work Deparment of the Communist Party of China (CPC)Sichuan Provincial Committee.
Editor: Ana Wu