A tapestry of achievement: a golden khada in Jiaju (I)
2017-12-08 09:32:44 | From:China Tibet Online
Editor's note: The Sichuan-Tibet Plateau, a beautiful region that reaches toward the heavens, is a place showered with blue skies, covered in white clouds, and dotted with snow-covered mountains, but recently, something truly remarkable has been materializing among the households that call this place home. A groundbreaking historic change has been reshaping the land and its people. From today on, we will publish a series of stories to tell you those changes.
Danba County is certainly not lacking in its potential to bring in tourists. "One Ancient Tower, One Tibetan Village, One Beautiful Valley", "The Capital of Ancient Dongnü","The City Nearest the Dadu River", and "A Natural Geological Museum" are just a few of its many endearing titles, but one famous area in particular is the scenic Jiaju Tibetan Village, eight kilometers (five miles) away from the county seat.
It is here that nature is harmoniously used to build unique stone-wood houses that still have that traditional Tibetan flair, and these structures have been successful in preserving the ancient style of Jiarong folk houses.
The richly layered architecture has a unique character, and the red and white colors are bright and lively, a beautiful compliment to the blue skies, white clouds, green trees, and charming hills. This is the "Fairytales in Tibetan Inhabited Areas" and the "Most Beautiful Village in China", attracting a great number of tourists.
According to statistics, during the week-long National Day holiday (Oct., 1st) in 2016, there were as many as 74,500 visitors, and the village's profit skyrocketed to an astounding 73.755 million yuan (11.146 million US dollars). It seems that Tibetan-style agritainment has indeed become the main source of income for the local people.
Upon entering Jiaju, "The Three Sisters" is the first reception house people normally come across. In charge of the venue is Gui Hua, and during that particular holiday, she was swarmed with guests. Normally, people can register online using platforms such as Ctrip and Qunar (two popular online travel services in China), but there were so many people flooding in at that time that Gui could only manage walk-ins.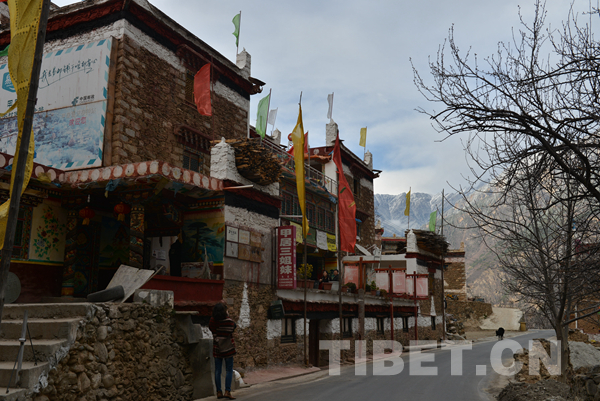 "The Three Sisters" reception house
"It's crazy to think about, but it wasn't too long ago that we would have never been able to imagine such a flourishing business! Roads were rough, and it was difficult to get anywhere. Even if tourists wanted to come see the beautiful scenery, there was no real accommodation for them here!"
Gui's opinion is pretty much that of most locals.
The Chinese version of this story is written by Yi Xianhong & Wang Xi and translated into English by Huang Wenjuan. And the story is sourced from the United Front Work Deparment of the Communist Party of China (CPC)Sichuan Provincial Committee.
Editor: Ana Wu