Students in Tibet's border areas understand the world outside mountains
2017-11-03 11:22:05 | From:China Tibet Online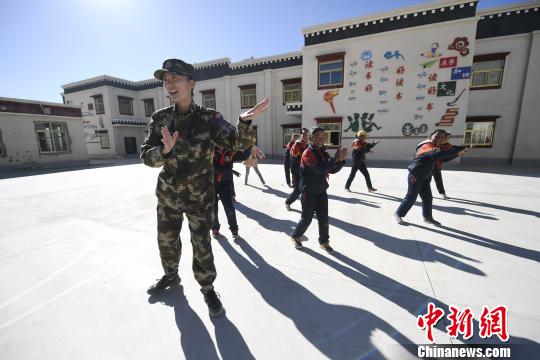 Female border patrol guards teach students popular online dances.
"These days, these Tibetan primary school students have all been asking me how to say 'Australia' in English," Xu Jing, a lieutenant from the Dinggye station of Tibet Public Security Border Defense Corps, said. The children are very curious about the outside world and want to visit places such as Beijing, Shanghai, and even London and Toronto.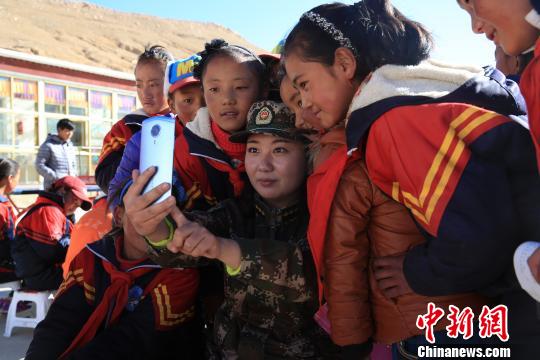 Female border patrol guards show students a cell phone app.
Dinggye County, one of Tibet's border counties, is located in the southern part of Shigatse, southwest China's Tibet Autonomous Region. Surrounded by the moutains, primary students from the Dinggye township of the county know little about the world outside. Today, border patrol guards are teaching the children about the world beyond the mountains.
Since May 2017, eight female soldiers from the Tibet Public Security Border Defense Corps have been helping the students of Dinggye Township Primary School on a monthly basis.
"We'll bring a map of the world to show the students and tell them about other countries and foreigners who are different from us," Xu Jing said.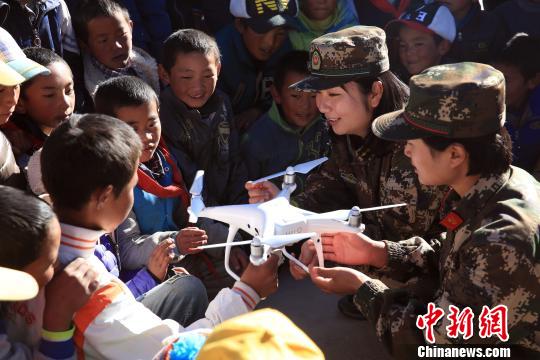 Female border patrol guards are explaining the principles of the drone to students.
The students are also interested in music and dance that are popular online. Through live mobile apps, students learn dance once a month from Xu Jing, who has a professional dance background.
"Sometimes I use the live mobile streaming app to record them dancing traditional Tibetan dance, Guozhuang, a circle dance. The rest of the world can also learn about these Tibetan children this way."
"The school's facilities are good, but students are lacking in knowledge about the outside world," Liu Lian, a captain at the station, said.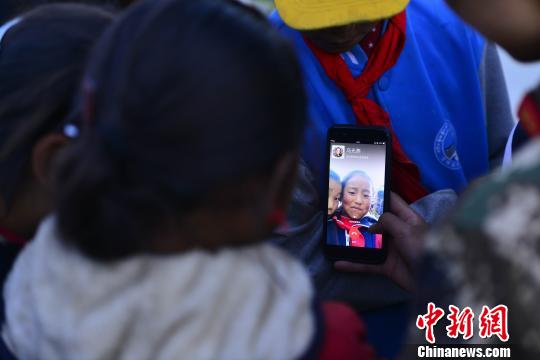 Students are using a cell phone to video chat with friends.
Liu Lian said that when they visit the school each month, they teach the students about foreign cultures, history, and customs, "letting them know that in addition to the place they live in, our world is very diverse."
Related News
;  

Located in Luohuo County in the Garze Tibetan autonomous prefecture, southwest China's Sichuan Province, the street is where nearby residents and farmers and herders around it shop for daily necessities.

 

The large-scale epic drama Princess Wencheng has officially ended its last performance of the fifth season at the night of Oct. 31.